Just witnessed your best live gig?..send us a review!
HYDROGYN
Wigan Tavern, 23 February 2007
The Sex and Sin World Tour? Starting in Wigan? Right.
Hydrogyn's debut performance in the UK was, it has to be said, more "hype and hot air" than "sex and sin": a triumph of style over substance.
And the style was very much down to the singer, Julie Westlake, who thirty years earlier would have adorned the walls of adolescent boys everywhere. And probably a few old men as well.
The rest of the band, with the exception of the bassist, were as overweight as the music and detracted somewhat from the singer.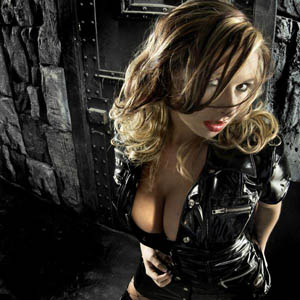 Julie looked as if she'd turned out for the Christmas works do, rather than a rock gig, a little too wholesome and nowhere near the image seen on her website.
What could have been the stuff of fantasy turned out to be the stuff of fiction. In short, the band didn't live up to the advance publicity and it may say more about My Space than anything else.
And it may say more about Wigan than My Space that less than 50 people witnessed this first night. There were less and less punters as the night wore on. A band that have travelled from Kentucky (although I'm not sure it wasn't Kentucky Fried Chicken) demand more respect than that.
Shamefully, too, the band's new CD 'Bombshell' wasn't yet on sale although they played several tracks including 'Breaking Me Down' and 'Confession'. Musically they touch on Lee Aaron and Pat Benatar territory but with a harder edge. It's a solid album produced by Michael Wagener (Ozzy, Alice Cooper) but they chose to feature their rougher first album too, as well as a couple of covers in an economical 45 minute set.
Hydrogyn's USP is Julie, and she's a decent vocalist, but if they are to really perpetuate the Sex and Sin mythology (and steal a march on their peers) some decent outfits for the band, backdrops, effects, and lighting wouldn't go amiss. Certainly stronger visuals would help mask so-so musicianship.
Wigan was, hopefully, an aberration. Perhaps the band will hit their stride during the remaining dates and Julie will ramp up the Sex and the Sin. Low down and dirty may be the only way to go...
Review by David Randall
Album review
---
| | |
| --- | --- |
| | Print this page in printer-friendly format |
| | Tell a friend about this page |