HAWKWIND Space Ritual 2-CD,1 DVD (EMI)(2007)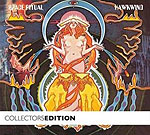 Having attended one of the gigs recorded by Hawkwind for this set (at Liverpool Stadium in December 1972 with fellow GRTR! scribe Pete Whalley) I was intrigued to investigate this new reissue.
Originally spread across four sides of vinyl, and lavishly packaged, the album has been reissued on several occasions, not least in 1996 when it appeared in a repro sleeve complete with facsimilie enclosures.
The novelty of this latest incarnation is the extra DVD which includes the full length versions of all tracks (some were edited for the original) and sequenced as a complete concert. The addition of two contemporary promo vids rounds things out. There's also bonus versions of 'Time We Left This World Today', 'Orgone Accumulator', and a previously unreleased 'You Shouldn't Do That', from the Liverpool gig.
'Space Ritual' was one of the more lavish stage productions of the early seventies, made possible because of the band's success with their second album 'In Search of Space'. But it perfectly captured the essence of the band - a sensory experience that had to be savoured live.
35 years on, 'Space Ritual' is worthy of reappraisal. The sonic witterings of Bob Calvert and acid sax of Nik Turner may seem somewhat incongruous these days but as a total multimedia event it takes some beating. There's a manic sub-Dr.Who sci-fi vibe to Calvert's 'Sonic Attack' speech (abetted by Dave Brock's interjections) before the band launch into the chant-like 'Time We Left This World Today'. And the Lemmy/Simon King rhythm combination should never be underestimated.
In those days, for an impressionable 16-year old, it was just about as good as it gets without smoking leafy substances (although judging from the pungent atmosphere a fair few in the audience tripped the light fantastic).
In truth, without the aromas, the strobe light show and - most important - Stacia's breasts, this is never going to be the real deal. But it does bring back the mammaries (sorry, memories).
The only omission here appears to be the hit single 'Silver Machine': although the promo film appears on the DVD it could have been included as a bonus track - especially as it was recorded at Brixton Sundown on this tour.
I remember little things like the way the band speed up and stop-start the 'Master Of the Universe' riff; believe me once the dope/cider/smoked banana skin had taken effect this was magnificent, Dave Brock's Sola-Fuzz and echoplex taking you where other space cadets feared to tread.
Perhaps the only thing missing from this excellent release is an inflatable Stacia doll, I can pass on a cut-out Dik Mik. Happy times indeed.
*****
Review by David Randall
---
| | |
| --- | --- |
| | Print this page in printer-friendly format |
| | Tell a friend about this page |