HANS THEESSINK Slow Train Blues Groove 1620 (2007)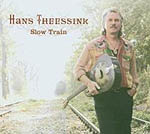 Never mind can white men sing or play the blues, how about an Austrian based Dutchman laying down some of the most compelling gospel you've heard in years? Step right up Hans Theessink. As someone who has promoted Hans some 20 years ago, it is great to report that his recorded output has not only reached a new maturity, but it is so good that even the likes of Eric Bibb would be hard pressed to come up with something as good as this.
Once you get over the rather obvious comparison with Ry Cooder and the occasional derivative lyric and well trodden gospel pieces, you will quickly realise just how good this album is.
Hans is clearly a blues practitioner for whom over 30 years of learning his craft has helped him refine a sonorous vocal style that conjures up the aches and emotions of his subject matter, while his sublime guitar playing is so subtle that you strain to hear every slight nuance of his intonation, or you equally drift along on some sultry slide runs that beautifully underpin some wonderful gospel accompaniment as on 'Run For A Long Time'.
But having established his blues and gospel credentials in the company of three wonderful gospel singers nick named Ramuda, Blessings and Vuda, Hans is not afraid to use the blues genre to voice his take on contemporary political events, be they 9/11 and Iraq as on 'God Created This land' or Mugabe's Zimbabwe on 'Thula-Oh Mother Don't You Weep'. On the latter biting lyrics are written as if in the first person which brings extra emphasis to the lyrics.
There's a further beautiful blend of gospel blues on 'Cry Cry Cry on which he adds delicious slide guitar and makes judicious use of handclaps on the most perfect outing imaginable There's also a JJ Cale feel to the wistful 'Let Go', while 'Love You Baby' is a delightful joyous dobro outing, again with tasteful bv's.
If anything 'Old Man Trouble' proves you don't have to be an Afro-American to lay down a true spiritual, and suggests the mark of an intuitive player with real feel and heavyweight songs to match.
Ry Cooder would probably love to have written something like this and perhaps the biggest compliment I can give this truly superb blues album is that at the very end of the closing 'When Luther played the Blues' you feel compelled to find out more about an artist who has just cut one of the albums of the year.
****½
Review by Pete Feenstra
---
| | |
| --- | --- |
| | Print this page in printer-friendly format |
| | Tell a friend about this page |