HANOI ROCKS Twelve Shots On The Rocks Castle/Sanctuary (2007)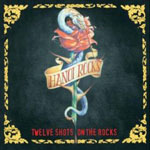 The inventors and innovators of sleaze had a turbulent career up to their split in the mid 80s following a well documented death; anyway, it's well known that without Hanoi Rocks the existence and success of Motley Crue, Guns'n'Roses et al would be seriously doubtful.
This 2002 comeback album, then of a very limited release, finally gets a full UK release and welcome it is too, with several bonus cuts added too. This isn't the full band, but guitarist Andy McCoy and singer Michael Monroe certainly recreate the sound and, more importantly, the fresh and honest 'in your face' energy. Good old Hanoi Rocks sleaze with that punk / new wave take on boogie, and a take off from Aerosmith and New York Dolls. A kind of missing link.
Cocksure and trashy, it's what they do best, as they always did. No matter they came from Finland (up yours Lordi, you weren't the first by 12 long shots), they still showed the Americans how to do it, and better too. Check out 'Obscured', a real mosh inducing belter. 'Bad News' features some fantastic guitar and a classic Rocks sound.
This is a sound album by a sadly too often overlooked band.
I wish they'd keep going and produce more records like this.
****
Review by Joe Geesin

---
| | |
| --- | --- |
| | Print this page in printer-friendly format |
| | Tell a friend about this page |