Just witnessed your best live gig?..send us a review!
GUILFEST
Friday 13, Sunday 15 July 2007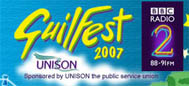 Friday night held some promising treats in store and the band I was most looking forward to seeing live the Hold Steady didn't disappoint. A great set by this US band who sound at times like classic Springsteen mixed with Bruce Hornsby's piano! 'On The Radio' and 'Ships Ahoy' are made for the live arena whilst 'Let's Go out Tonight' is a perfect party song. 'You Can Make Him Like You' is another gem of their latest album while even 'Southtown Girls' sounds good live being my least favourite track on the new album.
Great set by a very talented band and well worth seeing live.
The acoustic duo of Rodrigo Y Gabriela were a real eye opener in their sheer speed and variety of playing acoustic guitars. Amazing to see and they use the guitar's body as an extra instrument adding percussion - simply stunning. They even throw in a couple of snippets from Metallica's 'Master Of Puppets' and Led Zep's 'Stairway To Heaven'. An amazing duo and definitely one worth seeing live.
Next off to the Kids Zone my daughter's favourite area and again Guilfest really caters well for the younger person. We watched a very good pair of jugglers who juggled with fire for an added twist. Again it is a circus theme with hoops and balls to juggle with along with face painting, fairground rides and wandering entertainers.
Next up the theatre tent where we watched a selection of West End show songs performed by a trio called Creative Minds. Very enjoyable although often drowned out by the sound from he neighbouring rock tent.
Headlining Friday night were Supergrass who kicked off with 'Caught By The Fuzz' band they played a very hits loaded set including 'Pumping On Your Stereo' and the awesome 'Sun Hits The Sky'. Sound was slightly drowned out at times by the bass but other than that a great way to close the first night.
Couldn't make Saturday due to family commitments but we were back in force come Sunday but sadly missed the 250 strong Rock Choir who seemed to go down a storm by all accounts.
The main stage was very ska/Mod friendly today so I gave it a wide berth :) Mind you I did pop back to see the Icicle Works, well Ian McNabb plus others and it was a very enjoyable set.
'Evangeline' and 'Birds Fly (Whisper To A Scream)' were the set stand outs and they seemed to go down well with the crowd although Ian McNabb seemed a bit disappointed by the overall crowd response at times.
Redwood on the Ents 24 stage were very good - like an updated Pearl Jam with the good bits of Nirvana added. They look destined for bigger things. As the rain started (thankfully briefly) I dodged into another tent to see a good, solid rock band with a flamboyant frontman who liked his spangly jackets! Good festival fodder but not something you'd rush out and buy. I am reliably informed by my wife and sister-in-law that the stalls were as good as ever with the lantern and silly hats stall being a highlight (we like to cover all bases in this review).
Caught the end of Dukes Special and was impressed by the final song, one for further investigation. Caught the first part of the Madness set which had all their fans going nutty as normal with all the faves there like 'Madness', 'Just Another Day' and 'One Step Beyond'. They work the crowd well and for a fun night you can't go wrong although their fans can get a bit boisterous which can put off the more casual fan.
But for me it has to be Uriah Heep to close this year's Guilfest. Like Blue Oyster Cult last year they spent fifteen minutes fannying around with the sound which means with a strict ten o'clock curfew they only had 45 minutes left to play. Just get on with the music as people at a festival will forgive a slightly less than perfect sound I am sure. Many fans were grumbling it has to be said.
First chance in the UK to see new drummer Russell Gilbrook as well who is a big hitter in the Chris Slade style and slots in well with the band's overall sound.
A very heavy set with a stunning 'Between Two Worlds', 'Gypsy', 'Cry Freedom' and 'Sunrise'. Uriah Heep are a classic festival band as they work the crowd well and are not too heavy to put off the casual festival music fan looking for a band to watch. Along with the Hold Steady and Rodrigo Y Gabriela the bands of the festival for me.
Another great Guilfest with fine food, company, music and entertainment - what more could you want? Well better toilets as they were in a right state by Sunday night but bar that the best family festival around.
Review by Jason Ritchie
---
| | |
| --- | --- |
| | Print this page in printer-friendly format |
| | Tell a friend about this page |