THE GREEN RAY Back From The Edge GRAY11 (2006)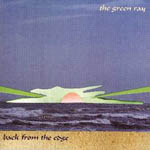 Aside from a few decidedly dodgy vocal outings this is the most impressive West Coast influenced album you are ever likely to hear, and at the time of writing we are still in January 2007.
For 'Back From The Edge' is a couple of tracks short of being a little masterpiece in which former Help Yourself guitarist Richard Treece and fellow Help Yourself and one time Man bass player Ken Whaley fulfil all their west coast influenced potential that has all too briefly glistened in their previous recorded output.
Quite simply aside from the obvious Help Yourself nuances as on the one of the album's best tracks 'Swedish Detective Movie', the ghosts of Quicksilver Messenger Service, The Grateful Dead and Country Joe & The Fish loom large, as well as Whaley's obvious Jack Casady influenced mellifluous bass lines.
But that said it arguable that, Garcia aside, none of those bands had a guitarist of such touch, feel, tone and dexterity of Richard Treece. So although he has to sit throughout most of the occasional Green Ray gigs nowadays, his delicately delivered array of psychedelic tinged notes are worthy of however long he makes you wait.
And while the album has some obvious flaws, be they the occasional awkward chord change, and even more pained vocals outings as on the post acid 'Breaking Down', there are some quite magical musical moments that all west coast fans will absolutely love.
For example, the closing mellow groove (and this album is full of them) of 'Before the Fall' has a very early Pink Floyd feel on which Treece is outstanding. He gradually teases out some cut glass dynamics and he also dips into a John Cipollina and Quicksilver feel on 'Breathe', teaming up with fellow guitarist Simon Haspeth who aside from this outing contributes five tracks in all.
Treece even offers a tip of the hat to Zappa on a cool blues outing 'Moody Greens'. On top of that there are regular Garcia/Dead inflections as on Ken Whaley's 'Silver Ring' on which the guitars are supplemented beautifully by Aaron Liddard's flute and sax.
This is an album that demands repeated listening for unlike so much contemporary output, there are so many musical twists and turns and some outstanding guitar and slide work, that you could be forgiven for rolling one up and starting all over again.
****
Review by Pete Feenstra
---
| | |
| --- | --- |
| | Print this page in printer-friendly format |
| | Tell a friend about this page |