GOODBOOKS Control Columbia (2007)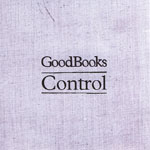 Formed in 2005, Kent's GoodBooks (Max Cooke - vocal/guitar, Christopher Porter - vocals/bass, JP Duncan - Keyboards, and Leovon Bulow-Quirk - drums) cite the likes of Kraftwerk, XTC, Pulp and Hot Chip as influences and featured in NME's list of the top 10 bands to watch out for in 2006.
For me personally, the NME endorsement is like the kiss of death, because I've had an overdose of indie guitar wannabee bands of late. So I approached Control with a margin of caution.
But the good news is that Control - produced by Dan Grech-Marguerat and recorded at RAK studios in London - is unlike a lot of the tosh that's being currently spewed out of every living room.
Control is pure pop/rock class. Certainly GoodBooks are nothing like most indie bands - their roots are in great songs, great melodies, classy playing, production and singing - all timeless qualities. And the other great thing about Control is it's multi-facet of styles.
To my mind the band fall somewhere between Thompson Twins, Pet Shop Boys and Steely Dan. And from the first play, every track digs it's hooks in deep, demanding a press of the 'repeat' button.
Packed with strong melodic pop, Control is the antidote everyone needs to make the summer go with a swing. For everyone who appreciates good music. ****1/2
****½
Review by Pete Whalley
---
| | |
| --- | --- |
| | Print this page in printer-friendly format |
| | Tell a friend about this page |