Just witnessed your best live gig?..send us a review!
GLENN HUGHES
Shepherd's Bush Empire, London 25 March 2007
A one-off stop in the UK for a rescheduled date from last year and a decent sized crowd, although only one level of the balconies was open. Missed the most of Toby Jepson's (ex-Little Angels) set due to hassles getting into the venue (the queuing system was a joke and many fans were getting understandably irate at the lack of organization and slow moving queues). I caught the last three numbers, all relative new songs and they rocked big time! Toby Jepson has certainly found his hard rocking roots again and hopefully he can get his name established in a solo right.
Next up were the Nude Girls (I did chuckle at the sign outside the venue which read Glenn Hughes and Nude Girls, sounded like some erotic review!), who were to put it bluntly, sh**. I have a wide and eclectic musical taste but this band were dire and were quite rightly booed by some of the crowd. A singer who thinks he's Robert Plant, but had the stage presence of a damp squib and the only highlight was watching the demented keyboard/trumpet player, who was dressed like a business man but was attacking his keys with abandon. Quite easily one of the worst bands I've seen live!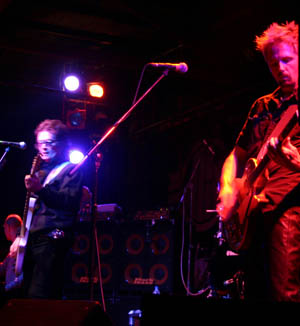 Glenn Hughes took to the stage at just after 9.15 and proceeded to play a very funked up set. Kicking off with the blissful 'Valiant Denial', then straight into 'Orion', which features Glenn Hughes laying down some funky bass lines and working well with guitarist Jeff Kolman.
Glenn Hughes always seems to gather great musicians around himself and his latest band follow on this tradition (drummer Mark Mondesir being a fine addition and a real powerhouse drummer with a neat funky edge).
A couple of sound issues early on with the guitars at times sounding very 'muddy' but things were soon back on track.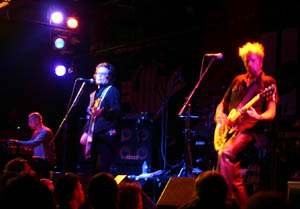 The Deep Purple numbers always go down well, with Glenn Hughes doing vocal gymnastics on 'Mistreated' and 'You Keep On Moving'. 'Steppin On' of his latest solo album sounds much heavier live, whilst 'Don't Let Me Bleed' again allowed him to show of how great his vocals still are.
Unlike Ian Gillan who struggles to hit the high screams, Hughes can still belt out those trademark scream vocals with ease.
Sadly missed the encores as public transport is not great on a Sunday night! But from the main set you can see Glenn Hughes is having the time of his life and musically and vocally he has never sounded stronger. A 'must see' live act for any rock fan.
Review by Jason Ritchie
---
| | |
| --- | --- |
| | Print this page in printer-friendly format |
| | Tell a friend about this page |