gg06 Download only (2007)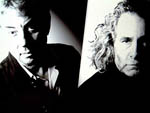 Track 1 - 'The Same Road' - Upon listening to the opening few notes on 'The Same Road' sung by Kevin Godley, a lump began to form in my throat and a tear in my eye (I kid you not). It was like a dear old friend's voice from the past bringing warm and happy memories back on an otherwise mundane day.
Arguably, Kevin Godley, who sings lead on all five new tracks, has one of the finest set of vocal chords in music today - absolutely sublime! As Graham Gouldman puts it, 'I always figured Kevin had the best voice in the band - ironic that he never sang lead on a 10cc single… Even I managed that. Now justice has been done. Kevin's voice and razor sharp lyrics take us places we haven't visited before… Always a good place to start!'
'The Same Road' was the first song Graham and I had written for many, many years,' Kevin recently explained. 'At the time we weren't sure if it was for us or another artist. Lyrically it draws on seeing people trapped in offices all day, fantasizing about finding something better. Of the five in the can, so far, it's probably the sweetest tune but the most derivative lyric.'
Track 2 - 'Johnny Hurts' - ' 'Johnny Hurts' is a man, in emotional turmoil, trying to soothe and placate his best friend's new wife after she is raped and beaten by her husband and drunken friends at the after wedding party,' Godley explains. 'He's both blaming and excusing the guy in the same breath because he's terrified of him. He can't turn a blind eye any longer, however, as he is in love with her, himself. I hope one can feel the knot in his gut as he struggles to pour his heart out.'
As one can hear with 'Johnny Hurts', the new Godley & Gouldman songs are much deeper and darker in lyrical content than previous efforts, yet much more stripped down in production. Not to worry, the lavish vocal harmonies and intricate arrangements from the dynamic duo are as rich and cutting edge as anything on How Dare You.
Track 3 - 'Beautifulloser.com' - Upon listening to 'Beautifulloser.com', I must confess that I thought it was Graham Gouldman singing, and shocked to find out it was Kevin. This only reconfirms my statement about Godley's tremendous voice - he has such dynamic range and tonality. Could this be the best song Tom Waits never wrote? To my ears, the vocal delivery (Kevin with accompanied piano for the most part), and troubling subject matter is very reminiscent of an early Tom Waits composition. A solemn, sad, enchanting piece, 'Beautifulloser.com' is eloquently written and performed.
'Beautifulloser.com is me being acutely aware that my moment may have past', Kevin Godley divulged recently. 'At the time I was feeling creatively lost, useless, and very much yesterday's man. For some reason this lyric came out through the character of a woman. There was never a conscious template for the music, but, in hindsight, it would be songs like 'Ode To Billy Joe' (Bobby Gentry) or 'The Moon Struck One' (The Band). Both story songs inevitably working their way to a haunted conclusion.'
The song is also available on the new 10cc compilation 10cc. Greatest Hits And More (Universal Music TV).
Track4 - 'Hooligan Crane' - With this praiseworthy piece, we revisit a theme examined on Godley and Creme's song 'Punchbag' from 1978's L. I can surely identify with the main character's plight in 'Hooligan Crane', growing up on a street where the three biggest (and meanest) bullies resided - an unexpected pummeling was always expected! Once again, Kevin Godley's vocals are unsurpassed, as is the performance and arrangement.
'I wrote the lyrics and parts of the tunes,' he recently divulged, 'None of the chords. It's never that clear cut, though, is it? Everything is in flux until it's finished. Even then…'
'As well as being a wonderful lyricist, Kevin comes up with great melodies.' Graham Gouldman recently told journalist John Bruinsma. 'He doesn't play a musical instrument so I create a background, via chords, for his music. Sometimes the chords to use are obvious, but often they aren't, in which case I search around until I find the one Kevin is hearing in his head. Because Kevin goes places musically and lyrically that I wouldn't go, everything about working with him is both positive and improving.'
'He doesn't improve my songwriting,' Godley complemented Gouldman. 'He makes it!'
Other musicians on the five new tracks that help the duo's new music come to life are Jess Bailey (digital cellos, piano, organ, keyboards and drum programming), and Mike Stevens (keyboards, drum programming, Electric piano, organ and synthesizer).
Track 5 - 'Son Of Man' - Kevin and Graham's new song 'Son Of Man' is about the transitional period from Hotlegs to 10cc. As Kevin Godley recently put it, 'It's the primitive offspring of 'Neanderthal Man' and represents one band evolving into the next. 'Neanderthal Man version 2 (Son Of Man) spruced up the original process by adding some background vocals, recorder, anvil and a tone generator.' It's an irresistible song, with trademark humor and inventive production.
So there you have it! Five new fabulous songs from Kevin Godley and Graham Gouldman - history in the making! I urge you to visit their official website and download these gems as fast as your fingers can type. And if we close our eyes and wish real hard, maybe G&G will record an album's worth of music!
****
Review by Billy James
Feature
Album review
---
| | |
| --- | --- |
| | Print this page in printer-friendly format |
| | Tell a friend about this page |