THE FLOWER KINGS The Road Back Home Inside Out (2007)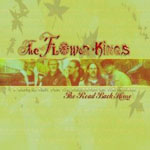 A two disc 'Best Of', which focuses on the band's more accessible and on the whole shorter tunes according to main man Ronnie Stolt. All the music is remastered as well making it a worthy purchase for existing fans although this compilation is aimed mainly at drawing in new fans to the band.
If you are new to the band you will be in for a treat as the Flower Kings take the classic 70's progressive sounds of Yes, Genesis (their song 'Cinema Show' is covered by the band on here) and Gentle Giant whilst adding their own modern musical touches. For me they provide the perfect foil for those who want something different to the prog metal approach of Dream Theater et al. Songs like 'Cosmic Lover', 'A King's Prayer' and 'Starlight Show' just show how good this band are at melding intricate music with fine melodies and some truly wondrous keyboards courtesy of Tomas Bodin. The band also use woodwind instruments to great effect adding a further musical avenue to their sound.
For those yet to discover the band this two disc selection is an excellent place to start and with over seventy minutes of music per disc you certainly get value for money.
****
Review by Jason Ritchie

---
| | |
| --- | --- |
| | Print this page in printer-friendly format |
| | Tell a friend about this page |
***** Out of this world | **** Pretty damn fine |
*** OK, approach with caution unless you are a fan |
** Instant bargain bin fodder | * Ugly. Just ugly