VARIOUS NME Presents The Essential Bands Festival Edition/Headliners - The Ultimate Festival Line-Up/'90s Anthems (2007)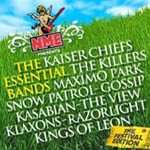 It's festival time of year and to try and pay for their summer hols the execs in the major companies are trying to bring a few extra quid in with the release of double compilations featuring acts you may well see at a festival somewhere near somewhere this summer.
And festivals - outdoors gigs to you and I - are becoming increasingly in vogue. No longer mud caked, breast bearing and drug smoking affairs (unless you're lucky), they are far more sophisticated affairs with proper facilities such as working lavatories and decent caterers. And just about every band plays at one.
So it's pretty damn easy to put any old compilation together under the festival banner. Although who's going to buy such a release in these download days is a bit of a mystery to me. They'll no doubt make a brief appearance in the racks at Woolies and WHS, but most will no doubt be those casual purchases slipped idly into the shopping trolley at the local supermarket.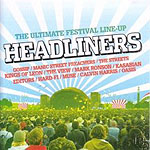 One thing's for sure, they won't still be on the racks come Christmas, so if you want one, act now. There's hardly any duplication of artists (Maximo Park being the exception), so if these are really your 'thing', go wild and buy both.
As you might expect the NME (Universal) collection is indie based with 40 tracks featuring Kaiser Chiefs, Klaxon, Snow Patrol, The Killers, Klaxons, Maximo Park, Gossip, Keane The Twang, Patrick Wolf and many more. ***
While the Headliners (SonyBMG) offering is a little more mainstream with 42 tracks featuring The Manics, Kings Of Leon, Kasabian, The Zutons, Babyshambles, Stereophonics, Supper Furry Animals, Stone Roses, Oasis and many more. ***
Trouble is compilations of this sort are a bit like boxes of chocolates - there's always some you love, some you're ambivalent to and others you hate. So take my advice - check out the track listings next time you're passing the bacon counter, and if you think it'll drown the kids out on the way to Glastonbury, then maybe it's worth the investment.
Review by Pete Whalley
VARIOUS 90's Anthems Universal (2007)
A two CD compilation of 'antes' although you could argue that some are not anthems such as Nirvana's contribution 'On A Plain'.
All the eras are covered from Madchester with tracks by the Farm, the Charlatans and the Happy Mondays through to Britpop Oasis, Blur and the Bluetones.
Even the dance scene gets a look in with the Orb and Fatboy Slim. Luckily though not r'n'b/rap crap.
A solid collection and ideal for parties or in the car but in this download age you maybe better of making your won compilation as I doubt anybody likes every track on here. For me I can easily do without Bjork and the Cranberries! ***½
Review by Jason Ritchie
---
| | |
| --- | --- |
| | Print this page in printer-friendly format |
| | Tell a friend about this page |