Just witnessed your best live gig?..send us a review!
FATES WARNING
London Camden Underworld, 21 November 2007
Review by John Stefanis
Travelling has never been an issue as far as a live performance of Fates Warning was concerned, yet I always hoped that I would one day manage to see the US Progmetal legends perform on English soil. My wish came true on the night of the 21st of November when, after only making a half an hour drive, I found myself outside the entrance of the Camden Underworld. Now, I cannot say that I was particularly happy about the choice of venue, seeing as I feel that a band of the status and history of Fates Warning deserve much better 'treatment', yet I had long decided that nothing was to deprive me from enjoying a great night of Progressive Metal.
My arrangements to conduct an interview with Fates Warning's frontman Ray Alder prior to the band's show resulted in me actually getting to the venue half way through the set of the opening act To-Mera, still I had enough time to realise that there is something really special about this female-fronted Progressive Metal quintet.
Formed by Lee Barrett (Bass ex-Extreme Noise Terror) and Julie Kiss (vocals), the Oxford-based outfit performs extreme but also technical metal with quite a few twists and turns, investing in Jazz rhythms and incorporating influences from bands such as Dream Theater and Opeth. The band came across as a very tight and well-co-ordinated outfit, still I was particularly impressed by Julie's simple vocal melodies which always manage to be in tune, even when the rest of the members of the band were performing some of their most rhythmically challenging compositions.
Forty minutes later, To-Mera left the small stage of the Underworld, having received a warm round of applause.
I am not really sure whether it was due to the fact that the English Football team was playing it's last and critical qualifying game for the Euro 2008 competition that very night or that the band's London gig was booked relatively late and with little promotion to properly advertise it, but when Fates Warning came on stage, there must have been only around one hundred people at the London Underworld. That didn't stop the band producing a top quality performance with a set list that was predominantly based of the band's last three releases, but also featuring a few much loved classics from the albums "No Exit" and "Parallels".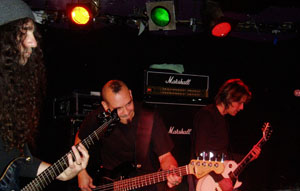 For the purposes of this short European tour, the basic trio Jim Matheos (guitars), Ray Alder (vocals) and Joey Vera (Bass) acquired the services of ex-member Frank Aresti (guitars) and Bobby Jarzombek (drums), the addition of whom seems to have brought a breath of fresh air to the band. Frank's performance was beyond criticism, constantly bombarding us with an array of amazing leads and solos, especially during "Life In Still Water" and "Point Of View" - songs that received a warm welcome by a hungry and quite appreciative crowd. Any doubts I had as to whether Bobby Jarzombek, a drummer with a predominantly Hard Rock and Classic Metal background, would manage to give justice to the bands more technical compositions disappeared the moment the tall Texan positioned himself behind his shiny and impressive drum kit.
While Alder was winning over the audience with his amazing vocals and approachable character, in a very relaxed manner, Bobby and the remaining members of the band performed the melodic by highly complicated material from "A Pleasant Shade Of Grey" with shocking accuracy. After one hour and ten minutes, which to me felt much shorter, the band left the stage to strong applause from the crowd, only to return and perform three more compositions, including the "No Exit" classic "Silent Cries", the passionately-received "Eye To Eye" and the classic technical opus "Monument".
Yesterday's performance proved to me without any doubt that it doesn't really take a venue with modern equipment and a large stage to achieve a great show. Under the worst possible circumstances, Fates Warning managed to pull off one of the best shows of the year and prove that they are still one of the best bands that the Progressive Metal scene has to offer nowadays. My only wish is that next time they visit England, which I hope will be relatively soon, they will be treated with the respect that a band of their status and history truly deserves!
Set List
One
A Pleasant Shade Of Grey Pt 3
A Pleasant Shade Of Grey Pt 4
Another Perfect Day
Life In Still Water
Island In The Stream
A Pleasant Shade Of Grey Pt 7
The Eleventh Hour
Point Of View
Still Remains
Stranger (With A Familiar Face)
A Pleasant Shade Of Grey Pt 11
Encore:
Silent Cries
Eye To Eye
Monument

Related>> Interview
---
| | |
| --- | --- |
| | Print this page in printer-friendly format |
| | Tell a friend about this page |