FAIRPORT CONVENTION Live At The BBC Universal (2007)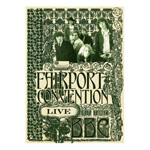 Good old Auntie Beeb - just when you thought everything they recorded by this evergreen act had been released to disc, someone blunders into a cupboard and asks: "hey, what's in this box...?"
Transcriptions discs provide new matter to one of the 4 CDs in this beautiful and informatively packaged '60s-'70s box set trove culled from its and band's archives spanning the earliest sessions by the first generation Fairport (a West Coast-influenced folk pop act) to the robustly English folk rock act if became best known for.
As fan buffets go, it's pretty delicious - most of the dishes are familiar (notably disc 1's early years which appeared on 'Heyday') but there are some real treats in discs 3 and 4 wherein lurk rarely heard live takes of concert favourites.
Disc 4 contains the early lost (poor quality it has to be said) recordings with original singer Judy Dyble with pleasures aplenty in her exquisitely piped takes, including earliest single, "If I Had A RIbbon Bow", and giggles aplenty in the period deejays' cringing intros and back-announcing.
But it's in the early Sandy Denny era that the band establish the credentials that have enabled them to trade the Fairport brand with relative ease and charm over subsequent years. "Fotheringay", "Si Tu Dois Partir", "Poor Will And The Jolly Hangman", and "Reynardine" are highlights heaped upon highlights enjoying robust yet sensitive treatments couched in swooning musicianship, and bristling with vitality and confidence.
A fine introduction to an important band of its genre as well as an entertaining ride into radio nostalgia.
'Live in America' is at best a brief snapshot of a great live band, but probably only an essential purchase for diehard fans.
****
Review by Peter Muir
---
| | |
| --- | --- |
| | Print this page in printer-friendly format |
| | Tell a friend about this page |