ERIC GALES The Psychedelic Underground Provogue PRD 7223 2 (2007)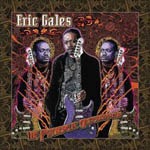 Eric Gales is one of a number of accomplished guitar rockers who are knocking on the door of the post Hendrix school of heavy power trio's. Like many such artists on the Provogue label, he is produced by Mike Varney, and the more I hear the more of an issue this has become.
While the production values here may constitute a contemporary mix, with due attention being paid to some muscular playing, the overall sound is too compressed with the lead lines frequently drowning out the vocals. Of course this may be deliberate but Eric's vocals do seem up to the job, particularly on the lovely combination of voice and guitar on 'I've Got Something On You'. But too often the busy rhythm section and double tracked guitars are just too claustrophobic, and it takes the opening guitar intro of the bluesy 'Dark Corners of My Mind' and the closing straight blues work out 'Someone Else's Problem' to remind us all of how simplicity is sometimes the best recourse. Indeed on former track
Eric seems to have a mellifluous voice but it's mixed too far back to make a real impact. Having listened to albums by Eric's label stable mates such as Pat Travers, and Leslie West etc, all similarly overseen by the same production team, it becomes more readily apparent that the mix at times stands between the artist and his work. There again the recent Phil Brown cd of Hendrix material is in a similar vein, so perhaps I should put it down to contemporary values.
Given the fact Eric Gales is a guitarist for whom Hendrix comparisons are inevitable he doesn't do enough on this album to stamp his mark on proceedings. On 'Pretty Lie' for example, there's some sharp chord changes, neat bv's and an exhilarating solo, but on the flowing and evocative title track there is a return to what sounds like double tracked guitars - in this case a fierce solo over some tough repeated riffs and cluttered backing - and given that he's straddling a mix of tough rocking and funky blues, it all adds to a confusing mix of styles. Eric Gales is an interesting rock guitarist, but on 'The Psychedelic Underground' he needs to come more above ground to more effectively show off his undoubted talent
***
Review by Pete Feenstra
---
| | |
| --- | --- |
| | Print this page in printer-friendly format |
| | Tell a friend about this page |