ELVIS PRESLEY Elvis The King BMG Sony 88697118042 (2007)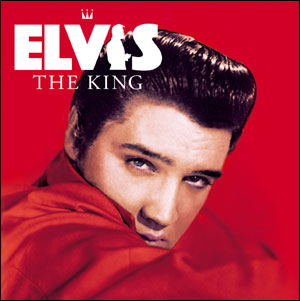 It sometimes takes an anniversary project like this to remind you of both the immensity of Elvis back catalogue and the tomes that have been written about it. And being a sucker for musical anniversaries, be they births deaths or dates commemorating particular albums, I have to admit that the 30th anniversary of Elvis's death looms pretty large in the calendar. And on that basis alone, a two CD retrospective like 'Elvis the King' needs such a weighty milestone behind it to help re-cork the old Chateau Presley into new bottles.
Strange then that for an artist whose career was so all encompassing, and was punctuated by stints in the army, Hollywood and Last Vegas, and included major comebacks and carried with it the weight of expectation that comes with being a cultural icon, there is little other than the recording dates to guide us through Elvis 23 year career. And lest we forget, this was a career that saw him chart 149 times, and over the course of just under two and half decades, shift from rock & roll and rockabilly to R&B, Country, Gospel, Pop and ultimately cabaret.
The 52 track double CD 'Elvis the King' comes with a lean two bonus tracks, albeit one of them is the single version of the moving 'If I Can Dream'. More significantly perhaps is that this release comes in tandem with the 'Elvis the King' singles box set. And while collectors will have all of the material here, the hits package doesn't include 'Suspicious Minds', 'In The Ghetto' or 'Heartbreak Hotel', so I guess completists might also want this more comprehensive offering.
For an album that is based on the premise of presenting 50 standout tracks, there are a few notable omissions from the early 'Mystery Train' to 'Little Sister' and the end of career 'Unchained Melody' for example. It may seem churlish to complain, but given that we are offered the Elvis take of Paul Anka's 'My Way' (a pale comparison to Sinatra), and the Las Vegas era country style of 'Green Green Grass of Home', (a number Tom Jones made his own back in the 60s), as well as Elvis's reading of the Englebert Humperdinck hit 'There Goes My Everything', you may have wished for something a but more considered.
What there is will be very familiar to Presley devotees, while for those of us enjoying a timely reappraisal of his talent as both a rocker and interpreter of song there are a handful of half forgotten surprises. The original version of 'Guitar Man' for example, thrillingly emulates the kind of rock and roll narrative that Chuck Berry revelled in, and the following 'A Little Less Conversation' is the closest Elvis ever got to dabbling with anything remotely psychedelic.
And while I personally prefer Elvis the rocker there are a number of skilled and at times emotive performances when he slips into the balladeer mode, notably on the magnificent opening 'Suspicious Minds' and also the moving 'In The Ghetto'.
The final closing three tracks establish a semblance of chronology and somewhere from deep within his over bloated Las Vegas persona he digs deep to hit form on 1977's 'Moody Blue'.
Elvis researchers tell us that when he came to recording 'If I Can Dream', he had to overcome a touch of laryngitis, which on this recording gives his voice a bit of an edge that matches the heartfelt lyrics. He brings out all the poignancy of this Earl Brown penned ode to the late Martin Luther King on an impassioned performance. And for all his early career gyrations and raw sexuality and his later well crafted song stylings this is the one moment when you hear Elvis at his rawest, successfully fighting to shape the song to his own ends and deliver a steller performance.
****
Review by Pete Feenstra
---
| | |
| --- | --- |
| | Print this page in printer-friendly format |
| | Tell a friend about this page |