Happy Birthday Elton John...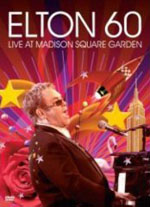 If you've ever seen Elton John live you will already know that he puts on a great show every time and this gig, filmed live at New York's Madison Square Garden to celebrate his 60th birthday, is no exception.
Disc 1 brings us 12 tracks from the MSG gig, including 'Levon', 'Madman Across The Water' and 'Hercules'- plus the 'Live, Rare & Unseen' feature which includes 18 tracks from across Elton's career. These include 'Top Of The Pops' appearances such as 'Goodbye Yellow Brick Road' and 'This Train Don't Stop Here Anymore' with live tracks from the early Seventies including 'Rocket Man', 'Tiny Dancer' and 'Crocodile Rock'. There are also some nice Eighties moments, including, 'I'm Still Standing' and 'Bennie & The Jets' live from Wembley.
Disc 2 holds the remainder of the MSG gig, including the bulk of Elton's hits -'Daniel', 'Sorry Seems To Be The Hardest Word', I Guess That's Why They Call It The Blues', 'Your Song' and 'Saturday Night's Alright For Fighting' - being just a few, and guest appearances from, amongst others, Whoopi Goldberg, Robin Williams and Elton's long-time song writing partner Bernie Taupin leading the 20,000 strong audience in a rendition of 'Happy Birthday'.
The special feature on this disc is 'Elton's New York Stories'- a selection of live tracks recorded in, or about, New York.
This 2 DVD set is not only a celebration of Elton John's 60th birthday, but is also testament to the career of one of the worlds biggest entertainers.
Happy Birthday.
****
Review by Nikk Gunns
Related>> Album review