ELO Balance Of Power Epic (1986/2007)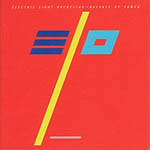 Funny how you remember trivial things in life as I remember rushing down to Newcastle(-U-Lyme) town centre in my school lunch hour to buy a vinyl copy of this album from John Menzies. Along with a couple of friends we were big ELO fans, although we took a lot of stick for this as ELO were never hip at school!
I liked the album on release and here some 21 years later it still sounds good. As an added bonus there are seven bonus tracks plus sleeve notes by Jeff Lynne and single sleeve and band photos. These ELO re-issues have been a real treat for fans and of course have Jeff Lynne's full involvement and backing.
ELO by the time of this album were down to three piece - Jeff Lynne, Richard Tandy and Bev Bevan. Gone were the strings bar some synth generated ones by Richard Tandy and the sound was very synth/keyboard led, as can be heard on 'Heaven Knows' or 'Secret Lives'.
This album also marked the end of the band until 2001's 'Zoom' and if you listen to some of the songs like 'Getting To The Point' you can maybe see Lynne was ready to call it a day. A foretaste of Lynne's future production work after this album can be heard in 'Endless Lies' which is sounds like a Roy Orbison song!
A couple of weak songs, namely 'Is It Alright' and 'Sorrow About To Fall' stop the album getting top marks from me, although it is easily one the band's top five albums they released.
Of the bonus material two cracking b-sides, 'Caught In A Trap' (another bonus song sees this track get a total lyrical work over 'In For the Kill') and 'Destination Unknown', a real ELO stomper! The alternate version of 'Heaven Knows' is excellent, with the keyboards reduced slightly in the mix and a bigger drum/guitar sound.
An essential ELO purchase, made more so with some very worthwhile bonus tracks.
****
Review by Jason Ritchie
---
| | |
| --- | --- |
| | Print this page in printer-friendly format |
| | Tell a friend about this page |