ELO Out Of The Blue Epic (2007)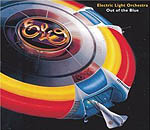 A 'must have' album - as simple as that! This is ELO's masterpiece and it gets a 30th anniversary re-issue with three unreleased bonus tracks and sleeve notes from Mr ELO himself Jeff Lynne. Of the three bonus tracks, one is a short alternative bridge for 'Wild West Hero', 'The Quick and the Daft' is a jaunty string led number and 'Latitude 88 North' is a classic ELO pop rocker.
As for the original album it is a classic and only 'The Whale' is the only track I skip, although fans of the Moog will dig the weird and wonderful effects on here. Hits aplenty with 'Turn To Stone', the definitive ELO song 'Mr Blue Sky', 'Sweet Talkin' Woman' and 'Wild West Hero', which features a wonderful chorus.
Side three in LP terms was 'Concerto For A Rainy Day', four great tunes topped off with 'Mr Blue Sky'. The ballad 'Steppin' Out' is simply blissful (lovingly covered a few years later by former Move singer Carl Wayne), whilst 'Jungle' sees the band in silly mode with Tarzan yelps and listen out for the tap dancing!
Get the digipack version and you get the model ELO spaceship inside! If you only ever have one ELO album make it this on (mind you I would personally say get them all bar maybe their early more progressive years which is an acquired taste). Music doesn't get any better than this!
*****
Review by Jason Ritchie
---
| | |
| --- | --- |
| | Print this page in printer-friendly format |
| | Tell a friend about this page |