ELECTRIC SIX I Shall Exterminate Everything Around Me That Restricts Me From Being The Master Metropolis MET 508 (2007)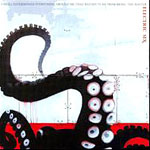 It would be easy to dismiss Electric Six as a falsetto driven, alt rock disco outfit, who bring a whole new meaning to the term post modern. But there's much more to their bow than that and a post-Zappa label would be more accurate as the Electric Six are in fact a delightfully subversive combo who come close to the Reel Big Fish while not quite matching that band's zany musical acumen.
There is much to admire here with enough humorous word plays and jokes aplenty in some biting and funny lyrics, none more so than the phonetic 'Down at McDonnelzz' - 'people need a place to go, now everybody down at mcdonnelzz they down with ronnell mcdonellzzz and now they hittin' the bottle and everybody cool!' How true that is!
The band claim everything they do is a result of excess, and one result of this is a need to dance along to funky, jumping bass lines, plenty of subversive lyrics and whip crack rhythms, as on the uncompromising 'Feed My Fuckin Habit'.
'Habit' melds together hard dance floor rhythms with the splendidly named Dick Valentine's falsetto vocals and some wild stunt guitar courtesy of an alias by the name of Longmont Potion Castle.
The following 'Riding On The White Train' mixes up a solid funky groove with some dark lyrics and there's an undoubted sense of satire at play as the band tread a thin line between commercial appeal and parody, treading the same vein as The Tubes did a few decades before them.
Sadly the latter became subsumed by the very commercial concerns that they once parodied, and it remains to be seen how Electric Six pull it off especially as some of their songs have an undeniably catchy musical base, particularly the rock friendly 'When I Get To The Green Building'.
And while 'Randy's Hot Tonight' raises a smile but little more, there are enough highlights to push Electric six into the vanguard of the contemporary American college market.
The up tempo funky groove and eastern sounding backwards guitars of 'Kukuxumushi' is a notable highlight with its perfunctory core line of 'I'm not the revolution, I'm just your boyfriend a fuck solution'.
And as the band steam into more funky led rock frivolities, you can't help but wonder if they have made a noose for their own necks, with fans expectations unlikely to be met by the moderately humorous 'Lucifer Airlines', although there is a clever dichotomy at play born of the relaxed lounge feel of the music and the sinister nature of the mixed back vocal line.
Electric Six then rock out to great effect and at breakneck speed on the huge drum sound that underpins the trashing of 'Lenny Kravitz' –'I got a five-step plan and a brand new facility the perfect habitat for testing sex ability'.
On 'Sexy Trash' Electric Six reveal an undoubted Beefheart feel both in terms of the mangled guitar lines, the primal vocal style and the deconstructed middle section. The number opens with the delightful, 'show me your sexy trash but don't go making moves that agitate my rash I'm an American man!
The band finish with the lyrically disconcerting, but philosophically accurate 'Dirty Looks' - 'every problem can be solved by burning books' - which comes complete with two unlikely but beautifully measured sax solo's from Brad Stern.
'Dirty Looks' is the perfect ending to a delightful 16 tracks that come as close as Americans do to 21st century counter culture.
****
Review by Pete Feenstra
---
| | |
| --- | --- |
| | Print this page in printer-friendly format |
| | Tell a friend about this page |