EISLEY Combinations Reprise (2007)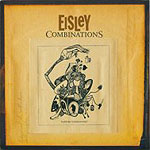 Who? Yes, that was my initial reaction, when this CD landed unannounced on the GRTR! review desk. The sleeve looked hopeful (we're always interested in bands with a smattering of the fairer sex, and the fact that the album is on Reprise (the 'home' of Neil Young, and generally a 'quality' label) was also a positive.
A quick trip to the band's website (and myspace page) didn't provide my enlightenment, but to be fair their website is one of the most extensive and comprehensive I've come across, and well worth a visit. Their myspace page also allows you to listen to virtually the complete album (10 of the 11 tracks anyway). So also worth a visit if, like me, you want to explore further.
A little more digging on the web reveals that the band are from Texas and are sisters Chauntelle, Sherri and Stacy DuPree, bother Weston and cousin Garron. If my memeory serves me well, Cousin Dupree was one of the better tracks off Steely Dan's Two Against Nature album, but that's probably a complete irrelevance.
Anyway, the band was formed originally in 1997 by Chauntelle and Sherri, who were then joined by Stacy (8) and Weston (10). A number of bass players came and went before Cousin DuPree joined in 2005.
Signed to Warners in 2003 the band shortened their name from Moss Eisley (the Star Wars spaceport) to simply Eisley, and began extensive gigging on the Texas indie circuit before getting a prestigous support slot on the US leg of Coldplay's Rush Of Blood To The Head tour. They've also toured with Coldplay.
So a pretty impressive CV. Combinations is, as it turns out, the band's 'tricky second album'.
With sisters Sherri and Stacy providing twin lead vocals, their sound is unusual - a harmonising of sweet etheral voices that on the opening track Many Funerals sound almost like Steely Span's Maddie Pryor. In somes ways, it's an album of two facets - on the one hand a sort of 1970's proggy heavy rock feel - perhaps in the mould of Mostly Autumn or Karnataka but more commercial and with more grit (A Sight To Behold, Taking Control, Invasion).
And on the other there's tracks that have a much more commercial/pop feel (Come Clean, Ten Cent Blues, If You're Wondering).
It's an album that definitly takes a few listens, but one that rewards persisitance. It has a curiously 1970's semi English feel to it, which seems at odds with the band's age and roots. But hey, let's not knock it, a quality album is a quality album.
****
Review by Pete Whalley
---
| | |
| --- | --- |
| | Print this page in printer-friendly format |
| | Tell a friend about this page |