DVD reissue for Frankenstein set...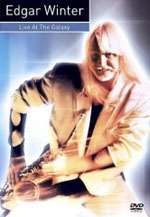 This concert was recorded back in 2003 and has previously seen the light of day as a DVD released by Classic Pictures.
A very lively set including an eighteen minute workout of 'Tobacco Road', which includes blues, jazz and some scat in it!
'Frankenstein' is most probably Winter's most identifiable tune thanks to 'Wayne's World 2' and again it is a marathon jam at seventeen minutes.
Some great sax and guitar playing on 'Show Your Love' as well.
An enjoyable live release from a artist who covers blues, rock, soul and a bit of jazz with ease.
***½
Review by Jason Ritchie