ED HARCOURT Until Tomorrow Then - Best Of (2007)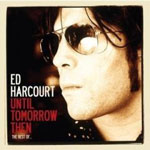 The fact that Ed Harcourt is seven years and five albums into his singer songwriting career and still isn't a household name says a thing or two.
Firstly, who other than EH acolytes could name all 5 albums? Or 4, 3, 2, 1? Thought so. The fact is EH is a thinking man's singer songwriter - an Elvis Costello, Nick Drake, Nick Cave or Damien Rice (although they've all achieved varying degrees of notoriety / popularity.
Until Tomorrrow Then - a 16 Best Of looks unlikely to rectify that, compiling tracks form all 5 of his previous studio albums - from the scratchy Apple Of My Eyes form 2000's mini album Maplewood to the commercial (by EH standards) Visit The Dead Dog from 2006's The Beautiful Lie. And as is the fashion (to attract existing fans) a couple of new tracks are thrown in for good measure.
EH is clearly not attracted by the lucrative commercial market in the way of, say Cherry Ghost. His songs, instead, flirt dangerously close at times - like a moth to a flame - to hummable tunes, darting away at the last moment. Whether that's by accident or design, only EH knows, but it does mean that he is an artist you need to work at to love (and it probably goes a long way to explaining his perennial support act status).
If you want to make that commitment, Until Tomorrow is the best way of going about it. And EH will be out on the road to promote it in October.
***½
Review by Pete Whalley
---
| | |
| --- | --- |
| | Print this page in printer-friendly format |
| | Tell a friend about this page |