DR. HOOK & THE MEDICINE SHOW Live In America Store For Music SFMCD066 (2007)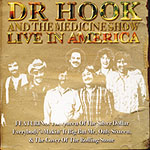 'There's 7 of us in the band, three of Ray and four of Me' laughs Dennis Locorrier. Zappa once posed the question 'Does humour belong in Music'? and back in the mid 70s' Dr Hook provided the kind of irreverent off beat humour that cornered the college/hippy market, before ultimately succumbing to the lure of commercial success and a string of admittedly fine MOR hits. And while Locorriere provided the voice and a lot of the on stage weirdness, including the never ending cackle heard on the in between song banter, it was the Alabama vocalist Ray Sawyer complete with cowboy hat and eye patch who much like Ian Anderson in Jethro Tull, became the personification of the band.
Recorded in January 1976 this live album was previously available as far back as 2001 as 'On The Run', and has been available in Europe on various labels as 'Live in Denver' and 'Alive in America', but this UK release is still a welcome return to the band's catalogue.
For one thing the 15 tracks act as a snapshot of a great live act, and we don't have to sit through the over exposed ballads of 'Sylvia's Mother', 'Little Bit More', 'Ballad of Lucy Jordan' etc.
Sadly there's no room for 'Freakin' at the Freakers' Ball' or 'I Got Stoned & I Missed It' but there's still plenty to enjoy from Sawyer's memorable triple yodel on 'The Yodel Song', to the Rik Elswit's humorous delivery of 'Everybody's Making It Big But Me', which includes the classic line, 'They've got groupies for the band, and all I've got is my right hand'.
There's also the controversial 'Cover of The Rollin Stone', which was banned by the BBC at the time for advertising a commercial product.
In between the Cheech & Chong /Flo & Eddie style craziness, there's still room for the Shel Silverstein's plaintive 'Carry Me, Carrie', a dark tale of a drunken hubbie, and his 'Queen of the Silver Dollar', the original B side of 'Rollin Stone'. Throw in a five track doowop medley and Sawyer's alt. country take on 'Rollin In My Baby's Arms' and you have the essence of a unique fun filled rootsy outfit before the dollar signs took over.
***
Review by Pete Feenstra

Queen of the Silver Dollar
© 2007 The Store For Music. All rights reserved.
---
| | |
| --- | --- |
| | Print this page in printer-friendly format |
| | Tell a friend about this page |