DONNIE VIE Extra Strength Livewire/Cargo (2007)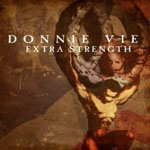 Enuff Z Nuff vocalist Donnie Vie revisits Enuff Z Nuff's classic 'Strength' album and this time he is backed by either acoustic guitar and minimal percussion or simply just a piano. For the majority of the time it really adds something to the songs with 'Heaven Or Hell' and 'In Crowd' really getting a new lease of life in this stripped down form.
He does a great cover of the Beatles 'In My Life', a band of course who greatly influenced the Enuff Z Nuff sound. But please what possessed him to ruin 'Baby Loves You' the only electric song on here complete with Donnie Vie spitting towards the end – charming.
One for fans definitely just to hear these songs in a different style but not likely to win him any new fans, they are better off starting with the original album. Hopefully Enuff Z Nuff will record another studio album soon although when they tour Johnny Monaco take's Donnie Vie's place so maybe that's why Donnie Vie is doing albums like this?
***
Review by Jason Ritchie
---
| | |
| --- | --- |
| | Print this page in printer-friendly format |
| | Tell a friend about this page |
***** Out of this world | **** Pretty damn fine |
*** OK, approach with caution unless you are a fan |
** Instant bargain bin fodder | * Ugly. Just ugly
get ready to rock is a division of hotdigitsnewmedia group