DFA Kaleidoscope Moonjune MUR010-2CD (2007)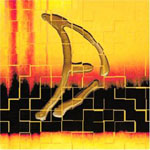 'Kaleidoscope' is a double CD repackaging of two mid to late 90's albums by one of Italy's finest prog rock bands DFA (Duty Free Area). And while the band use their liner notes to make clear that although their roots are clearly bound up with the likes of Gentle Giant, King Crimson and Yes, they also make a great claim not to be bound by the excesses of Prog that turned many rock fans away from the genre in the 80's.
In truth they are clearly aligned with their proggy ancestors, and the very complex nature of the music they play means they will never quite shed the trappings of Prog rock pomp. But on the evidence of the first CD alone, 'Lavori in Corso' they have nothing to extricate themselves from, as these guys simply play some magnificent music.
From the opening Gentle Giant inspired angular lines of 'Work Machine' through the jazzier groves of 'Pantera', which musically references National Health, complete with its building and resolution of little musical tensions, these guys deal in some brilliantly conceived musical dynamics. The guitar figures and keyboard parts on 'Pantera' are both as frenzied as they passionate, while the funky signatures and closing disguised blues outro of the ethereal 'Space Ace Man' surely offer enough light and shade and tough soloing to interest even the most cursory rock fan. If nothing else check out the reprised live version at the tail end of CD two, 'Duty Free Area'.
And just when you think the band has played all its aces it comes up with a lengthier keyboard led spacey suite 'La Via' built on the back of some mesmerising double guitar and keyboard lines. Hell, the music is so good you hardly notice the vocals are in Italian!
Three years on, and the bands self titled 'Duty Free Area' opens with a slightly more laid back almost languid guitar/keyboard groove, before the tranquillity is broken by some aggressive drumming and spiralling keyboard lines which establishes a mellifluous groove. The subsequent layered sounds and solos gradually resolve themselves into little angular excursions and a dominant theme. As a statement of intent the opening 'Escher' is a perfect calling card, all sparkling solos and restated themes. The following meandering keyboard excursion explores the band's more introspective side, with room for delicate percussion, vibes and lots of space to let the music breathe before a mid-number, organ led change of time signature.
On the impressive 'Ascendente Scorpione' DFA return to their spacey keyboard led ethereal vibe, which builds a head of steam on some superb accompanying rhythm work from drummer Alberto De Grandis and bassist Luca Baldassari.
Guitarist Silvio Minella is inventive throughout and Alberto Bonomi matches him all the way in his multi keyboard instrumentation, but the band's all round strength lies in pushing the parameters of the compositions rather than merely using them as a vehicle for endless soloing, and that facet alone makes the four and half minute excursion such a joy.
On 'Ragno' drummer De Grandis really pushes the band to their limits Billy Cobham style with some propulsive stick work, and if there is a sense of progression over the three intervening years it resides mainly in better production and possibly increased compositional confidence, with the impressive 'Malia' featuring a clever vocal duet over some beautiful keyboard parts.
Prog rock in Italy does of course go all the way back to the early 70's with PFM. The similarly alphabetically titled DFA have taken on that heritage, updated it, and imbued the hoary old prog rock format with some intricate playing, clever dynamics and fractured melodies all topped by four virtuoso players. This double set complete with two bonus live tracks comes unreservedly recommended for all lovers of the genre.
****
Review by Pete Feenstra
---
| | |
| --- | --- |
| | Print this page in printer-friendly format |
| | Tell a friend about this page |