Just witnessed your best live gig?..send us a review!
DEEP PURPLE Styx/Thin Lizzy
Wembley Arena 28 April 2007
A good three band bill of classic rock held at the recently refurbished Arena, which previously had the acoustics of a cow shed. Glad to report it is much better soundwise although as Ian Gillan bluntly stated in the DP set the staff (mainly the ones in the orange tabards) need to treat their customers better as many were to be blunt numpties of the highest order with the customer service skills of cavemen.
Anyway gripe over on with the music...first up a Thin Lizzy tribute band in all but name as you only have Scott Gorham and John Sykes (and he only did one studio/one live album) from any past Thin Lizzy line-ups.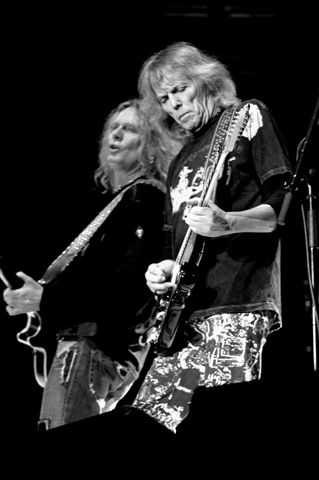 Zoom (Click large image to cancel)
Drummer Tommy Aldridge (Whitesnake/Ozzy/House of Lords etc) and bassist Marco Mendoza (Whitesnake/Soul SirkUS) filled out the line-up. You can't go wrong with a set that includes 'Cold Sweat', 'Cowboy Song', 'Jailbreak', 'Suicide' and 'The Boys Are Back In Town'. Sykes makes a decent attempt at the vocals although he lacks the confidence of a more assured frontman. Not a bad set at all and wisely they have steered clear of writing and performing any new songs under the Tuin Lizzy banner, instead sticking to the band's classics.
Styx were superb! I am in seventh heaven (again) after seeing them live. They are such a bundle of energy and in Lawrence Gowan (Keys/vocals) they have a real livewire showman. A very heavy set with no ballads, although they still keep doing the Beatles cover 'I Am The Walrus' which just doesn't work for me.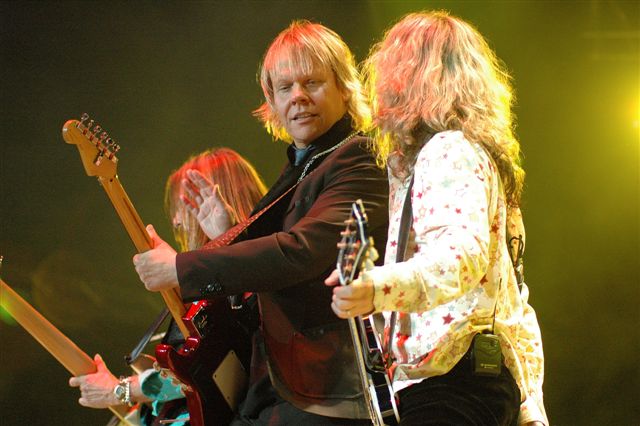 Zoom (Click large image to cancel)
But the classics kept coming in the shape of 'The Grand Illusion', 'Miss America', 'Too Much Time On My Hands', an awesome 'Come Sail Away' and the encore 'Renegade'. Good to see original bassplayer Chuck Panozzo join the band for the tail end of their set. They know how to put on a show and have the music to back it up. My band of the evening and then some!
Deep Purple were supposedly playing all of their classic 'Machine Head' album although 'Maybe I am A Leo' and 'Never Before' didn't get an airing.
Nonetheless a very strong set with solos kept to a minium and Don Airey in particular really on form as he kept to the sound of Jon Lord's original keyboard parts with a few tiny added flourishes. At no time did he deviate form the classic DP sound.

Zoom (Click large image to cancel)
Ian Gillan was in fine voice as well belting out 'Speed King', 'Black Night', 'When A Blindman Crys' and 'The Battle Rages On'.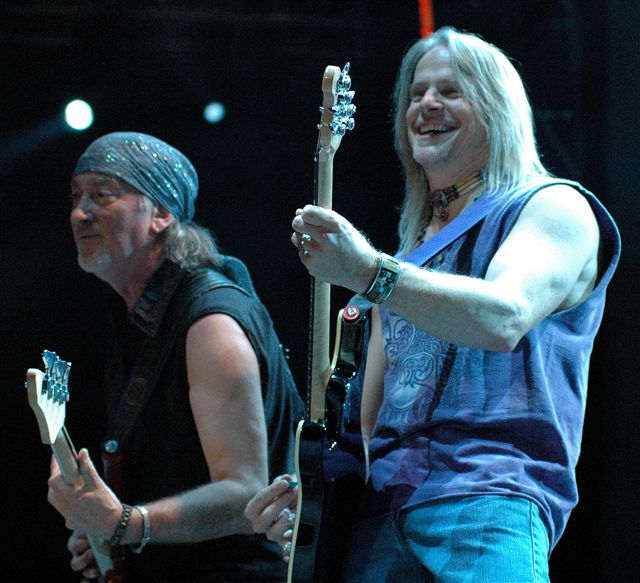 Zoom (Click large image to cancel)
Of last year's album 'Rapture of the Deep' only the title track was played and sadly no 'Ted The Mechanic' or 'Haunted' this time either. Encore time saw Styx's Tommy Shaw join the band for 'Smoke On The Water' and 'Hush' closed the set.
A superb bill and all three bands showed there is still plenty of life in them yet.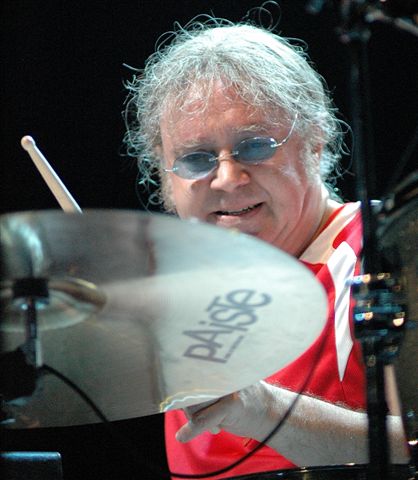 Zoom (Click large image to cancel)
Review by Jason Ritchie
Photos by Lee Millward. © Lee Millward/GRTR!
---
| | |
| --- | --- |
| | Print this page in printer-friendly format |
| | Tell a friend about this page |