DECOY Call Of The Wind AOR Heaven (2007)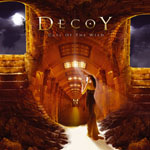 There's a consistent flood of good metal rock music from the Metal Heaven and AOR Heaven labels, much of it from Scandinavian or German bands and some inter-changeable personnel cropping up on several releases.
In truth, the label output tends to be somewhat formulaic and would not win many contests for originality.
However, for any listener wishing to relive their past, the repertoire will more than fit the bill. Much of it evokes the golden age of eighties metal.
Decoy is guitarist/bassist Torben Enevoldsen, vocalist Peter Sundell and Thomas Heintzelmann (drums) and the band was formed in 2005. Their blend of melodic rock tinged with prog and metal flavours is, frankly, quite wonderful. The only thing lacking is hair extensions.
From the opener 'Divided' with Dream Theater stylings, through title track 'Call Of The Wild' which evokes prime period Maiden, Decoy will appeal to fans of both those bands whilst also evoking their fellow countrymen and melodic rockers Europe.
'Brothers In Arms' slows the tempo and would have graced one of Toto's better albums. 'Heavy Metal Thunder' has the necessary riffing and is a good vehicle for Enevoldsen's guitar which is impressive throughout this album. 'Make A Stand' and 'My Religion' will appeal to fans of John Norum's low register riffing and are topped by fine solos.
'Forever and Ever' has the vibe of BOC's '(Don't Fear) The Reaper' but it develops into a mid-tempo ballad and, again, Toto fans should step on up. 'How Long' and 'The Real Deal' could be early Dream Theater, vocalist Peter Sundell on top form here.
Where Decoy have the edge, is that the songwriting remains top notch throughout. There's not one duffer. Allied to fantastic playing, super riffs and the necessary drama, Decoy demand your immediate attention.
*****
Review by David Randall
Peace Of Mind
© 2007 AOR Heaven. All rights reserved.
---
| | |
| --- | --- |
| | Print this page in printer-friendly format |
| | Tell a friend about this page |