CZAR Sunbeam (2007)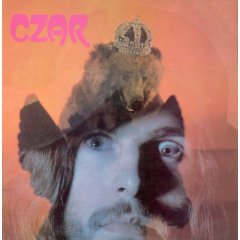 'Tread softly on my dreams..." implore Czar on the titular opener to their cult 1970 release on Philips' Fontana label. Alas, the record-buying public were to trample all over them.
The reason lies not in the quality on offer but its lack of constancy. When silly English pop group Giles, Giles & Fripp mutated into the awesome, continent-spanning King Crimson, and overnight defined a genre with multi-selling 'Court of The Crimson King', music majors raced off with wallets open to find more of the same.
Some made the jump successfully, others less so. Tuesday's Children recorded a string of poppy psych singles in the 60s before tackling the latest thing with this album. At a glance, it augured well with a suitably heavy re-brand and out-of-it imagery. But a few tracks in and the roots are showing.
Despite the best efforts of heavy Hammond organ and psych guitar work-outs, the album begins to drift, the crushed velvet of Czar falling down to reveal the paisley of Tuesday's Children.
Lacking the grip of Fripp, Czar had tiptoed to a genre that required drama, innovation, and sheer balls. However, in the age of revisionism, this is entertaining listening with a good read in the 12-page booklet and eight bonus tracks including their only single 'Oh Lord I'm Getting Heavy'.
Flip side 'Why Don't We Be A Rock And Roll Band' proffered advice they unwisely took as previously unreleased demos recorded after the album are closer to West Coast country/blues rock.
America having more than a few bands already tackling this genre, Czar were despatched in the people's revolution of 1971. As second division prog goes, this is worth the reasonable roubles charged by Sunbeam for a nicely-packaged reissue.
***½
Review by Peter Muir
---
| | |
| --- | --- |
| | Print this page in printer-friendly format |
| | Tell a friend about this page |