COREY STEVENS Albertville RUF 1125 (2007)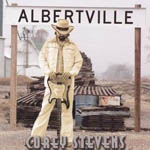 In this age of tributes the blues scene is far from being immune with a plethora of such releases too often being an excuse for a lack of new material. And while it may seem strange that Cory Stevens should record his own ode to Albert King, at the very point of signing a world wide deal with Ruf, let alone after establishing himself over the last decade since 1996's 'Blue Drop of Rain', he stamps enough of his own subtle style on the proceedings to be convincing. So whatever the reasons for this project, it's a delight to acknowledge that it really works. And the reason is simple. If Albert King's heritage lay in his soulful, big toned string bending, then it was his reticence to add speed and volume to his style that marked him out as both a feel and ultimately very influential player.
In that respect Corey Stevens is a natural to take on the King mantle. There's nothing exceptional here, nothing too radical, and in truth nothing very startlingly original, but in terms of overall feel, presence and down to the wire blues, Corey delivers. Corey's leans into his solo's rather than forcing them. Albert would surely smile listening to this album, as Corey resurrects the styles of fellow disciples Lonny Mack and the late Roy Buchanan along the way. And with a road weary voice that sounds like Texan guitarist Bobby Mack (no relation to Lonnie), Corey delivers just enough to make this a better than average effort.
The ten tracks manage to ignore the more obvious King efforts though given Corey's unhurried style it would have been great to hear him tackle 'I'll Play the Blues For You'. It is precisely his languid playing style that draws you in especially on the Stax sounding 'Little Brother' and the gentle undulating funk of 'Another Pretty Face'.
There's even a surprising version of 'Blue Suede Shoes' which Corey delivers in a wonderfully laid back manner, which he repeats on the slow burning, but very effective cover of Ann Peebles 'Breaking Up Somebody's Home' And while the horns on 'Cold Women with Warm Hearts' may be mixed a wee bit too far back, it all makes sense as part of Core Stevens' prevailing mellifluous groove that digs deep and gets to the core of his subject matter, albeit in his own time!
****
Review by Pete Feenstra
---
| | |
| --- | --- |
| | Print this page in printer-friendly format |
| | Tell a friend about this page |