CHARLIE FARREN Old & Young F Man Media (2007)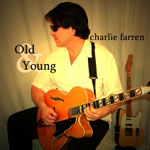 Once in a while a CD comes my way by an artist that I not only already enjoy, but also harbor added insight from having gotten to know them a little. Veteran Boston-rocker Charlie Farren is one of those artists.
However it is even more rare when that CD in fact, happens to be a collection of songs that you not only enjoy at first listen, but also realize that "this one is going to become one of my favorites."
Such is the case with Farren's fifth solo release, the self-written, recorded and produced Old & Young, on his own F-Man Media label.
Having worked up through the rock-and-roll ranks since the 70's in various New England bands such as Live Lobster and Balloon, then hand-picked by Joe Perry to help write and record Perry's second solo album I've Got The Rock And Rolls Again in 1981, before signing to Atlantic Records with his garage-rocking trio FARRENHEIT, Farren has certainly paid his dues.
However as a solo artist Farren has not gotten his due, and over the course of four previous albums and now the release of Old & Young, Charlie has truly matured not only as a singer and songwriter, but a versatile guitarist and producer as well.
Recorded in his Boston suburb home studio, the 11 tracks are a unique blend of songs written both recently (hence, the Young ) as well as "diamonds in the rough" culled from Farren's early work, going all the way to the days with Balloon and his collaboration with Joe Perry, or the Old.
The combination works well as Farren blends the tracks nicely, despite the fact some of these songs were written as many as 30 years apart, yet Farren touches upon so many styles and textures in these songs that there's really no way of knowing what songs were written when. Unless of course, one is informed.
The opening title track presents the album's theme, a jazzy number with smooth vocal harmonies which came to Farren after trying out a friend's (Boston-guitarist Johnny A) full-size jazz guitar.
"I knew I had to get one of my own," Farren said in an exclusive interview. "I went home and wrote that song in an hour, and it became an inspirational moment that would define the new project.
"I could introduce the CD with this new song, and I could blend the best of my unrecorded older songs with my new songs... and I'll record them with both my new arch top, and my old mainstay 1968 Telecaster that I got when I joined the Joe Perry Project in 1980."
"Too Far Gone" is a slowed-down rocker featuring soulful vocals and a filthy solo from Boston guitar-icon Jon Butcher, while "Emily" creates a smokey, almost eerie plea for love, complete with tastfull guitar licks from Charlie.
"Woman In My Life" was co-written with Ken Kalayjain from the Balloon days, and is just a powerful love song with vocals straight from the heart, also featuring fantastic guitar solo from Kalayjian.
Next up is "Wise Guy", which is probably my favorite track on the album. Just Charlie and his guitar, gettin' a groove going with a cool-jazz vocal and smooth harmony, and some great guitar licks.
All I have to say about "Say That You'll Be Mine" is that I want it to be played at my wedding. A simply beautiful love song that is not cliché', but from the heart. While "Lies, Lies, Lies" goes in the opposite direction, beginning with an Eastern-acoustic feel reminiscent of early Traffic, before gradually building up to a blistering guitar solo from Kalajian.
"Forgot To Remember" and "Sorry" are smooth numbers with soulful vocals, with the latter featuring dynamic slide and lead guitar solos from good friend Barry Goodreau, of Boston fame of course.
"Barry's lead is perfectly tuned emotionally for the message of the song, and as he wraps up his solo he delivers that classic Goodreau twist that he brought to so many Boston hit songs."
The closing "All The Way Home" does just that, a simple track that fades out with acoustic guitar flair.
Farren is one of those unique artists that let's his songwriting instincts and musical abilities take over, creating carefully crafted songs full of integrity, heart, and soul. A lone-sonic diversity that is no doubt, all Charlie!
To learn more about Charlie Farren visit his Website
***
Review by Joe Milliken
---
| | |
| --- | --- |
| | Print this page in printer-friendly format |
| | Tell a friend about this page |