Just witnessed your best live gig?..send us a review!
CARVIN JONES BAND
The Greenwood, Northolt, Middlesex, 23 February 2007
While very few in the capacity crowd for this stunning Carvin Jones going home gig can probably truly boast they saw Hendrix, just about everyone leaving the splendidly ornate Art deco Whitton Rooms thought they had just witnessed the closest approximation.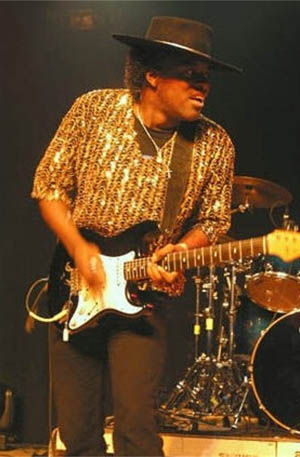 And while the spirit of Hendrix undoubtedly held sway over the course of a killer show, Carvin Jones displayed enough sense of fun, flamboyance and sheer drive to offer glimpses of so much more.
So what are we to make of the charismatic figure who Guitar magazine co-opted into their Top 50 Guitarist of All Time? Clad in a Carvin Jones T-Shirt (what else?) with his wide rimmed hat, silver crucifix and with a penchant for talking about himself in the third person, Carvin Jones is a true believer in his own talent, and boy does he have talent!
To begin at the beginning. It is arguable that Carvin Jones has very few peers in terms of technique and speed, for beyond several OTT Hendrix outings he thought nothing of dipping into the technically bewildering field of Yngwie Malmsteen or for that matter pulling off a note perfect rendition of early BB King.
Similarly he relished diving headlong into the Classic Rock back catalogue to plunder everything from Deep Purple to Cream - the sight of the whole audience on its feet to sing the chorus of 'Sunshine of Your Love' was rock community singing at it best.
And yet in between the posturing, the frequent forays into the crowd, the incredible shenanigans from bunny hopping on his guitar to all but standing on his head, there is a real Carvin Jones itching to get out.
His self penned shuffle and suitably titled 'Born To Win', and the tongue in cheek 'I'm Everything You Need', are out and out rockers with good hooks, and the only down side to a blistering two set show was that we were only offered glimpses of the real him. But that is a minor quibble, as I haven't seen crowd go crazy like this since the days of James Brown.
And by the time of a truly climactic finish as he stalked the hall with a guitar in either hand, pausing only touch knuckles with a starry eyed youngster, you realised that for all the world, Hendrix must have been special to top a moment like this.
With an audience ranging from 14 to mid 50's Carvin Jones proved if nothing else that the era of the flamboyant guitarist is far from dead.
*****
Review by Pete Feenstra
---
| | |
| --- | --- |
| | Print this page in printer-friendly format |
| | Tell a friend about this page |