CARVIN JONES I'm What You Need CJ Records (2007)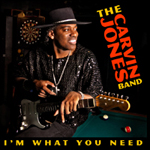 What can you say about Carvin Jones aside from being the biggest people person on the planet! Known variously as 'The Carvinator', 'The Phoenix Thunderbolt', and 'the fastest cat in the west', he is certainly all these things and above all one of the great entertainers of our time.
Quite simply when it comes to a unique selling point, Carvin Jones has broken the mould. But where his live performance is a frisson charged blur that induces even the most temperate person to get on their feet and punch the air with all the fervour of a gospel meeting, his recorded output has in the past been more problematical. The question is how to convert all that supercharged energy and that special people connection into the cold, dispassionate, clinical unforgiving carrier of the CD?
'I'm What You Need' strikes a compromise, somewhere between the warts and all style of the late Hound Dog Taylor, and a mellower song driven approach.
The danger here is that if you manage to bottle this Texas hurricane you will neutralise a genie whose raison d'etre is to make a magical connection with an enthusiastic crowd. Happily on 'I'm What You Need' he manages in part to retain his 'joy de vivre' by dragging in guest vocalist Roscoe Taylor on the celebratory opening duet on the title track and the surprisingly funky horn led 'One Night Stand'.
Curiously, given the live show emphasis on his virtuoso playing, the guitar work here is relatively restrained earlier on, but being Carvin Jones that means he still punches a hole through a wall. And with such route one lyrics as 'Six foot three with a sex appeal, I'm what you want you want, baby know the deal', you are left in no uncertain terms as to Carvin's humorous sense of presence.
In fact 'I'm What You Need' finds CJ fronting a 7 piece band, all of whom help to flesh out his patchwork of rocking blues, shuffles, and rock and roll. He approaches the languid shuffle 'Ya Drive Me Crazy' in a husky whisper with the Bill Troxell on bass and drummer Patrick Riley nailing down an uncompromising back beat. He also digs deep for the low down blues of 'Drowning on Dry Land' with a full horn section acting as a nice foil for Carvin's use of rich toned sustain.
The larger than life persona shines through on the self explanatory titled 'Born to Win', and he add some busy Albert Collins style note clusters on the instrumental 'Lightnin & Ice' complete with fine piano embellishments from Tim Furkes.
'I'm What You Need' is arguably Carvin's best album. For long time fans, that means a welcome dozen new original tracks on which his singing is getting stronger, and a sense balance being struck between the man's natural vivacity and the restrictive studio environment.
And while the closing, down- home noodle of 'I Need Your Sweet Lovin' is perhaps an outing too far, there's enough here to offer more than a glimpse of Carvin's unique style. If this CD passed your personal litmus test then you should follow the natural progression to his new 'The Carvinator' DVD, but in the meantime this four out of five stars CD should point the uninitiated in the direction of one of the great showmen of our time.
****
Review by Pete Feenstra
---
| | |
| --- | --- |
| | Print this page in printer-friendly format |
| | Tell a friend about this page |