Restrained Latino Rock to Bop from jazz rock giants...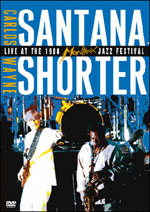 There are two ways to approach a project like this. Either we accept the PR about two stellar players wishing to extend their musical horizons by playing together, or we might take a slightly more critical approach and suggest that back in 1988 at the time of this recording both Carlos Santana and Wayne Shorter were struggling commercially.
Thus while Shorter had been out of Weather Report for some three years, and seemingly in the grip of a creative vacuum, Santana had released 'Freedom' to the kind of low key interest that is unimaginable for today's Grammy award winning guitarist.
But both Rock and to a lesser extent Jazz are no more immune to the vacillations of popular taste than any other facets of popular music, and though festival promoter Claude Nobbs must have taken some plaudits for this imaginative piece of jazz festival programming, the musical content doesn't always live up to its potential.
What is really lacking here is a sense of focus and a lack of someone to take the project by the horns and drive it. What we get is Santana as an almost peripheral figure, content to facilitate the talent of others which leads to the inclusion of a couple of unnecessary percussion and drum solos, while Shorter is at best fitful.
In fact it is the presence of Shorter's fellow fusioneer Patrice Rushen on keyboards who all but steals the show. Her frequent impressive bouts of note clusters and studied intensity occasionally spurs Shorter on to greater things, while her subtle synth work, acts as the perfect counterpoint and foil for a horn player whose reputation for intense playing is only evidenced fleetingly.
On 'Peraza'- the title comes from Carlos's redoubtable conga player Armando Peraza - Wayne adds some sinewy lines over Peraza's flamboyant percussion, and Rushen's linear synth lines.
The highlight comes almost inevitably with Shorter's 'Sanctuary' which opens with sax and keyboards playing double lines, before they construct a funky groove over which Wayne explores the full contours of his horn with some deep toned flurries.
Ditto, the impressive 'Elegant People' from Weather Report's 'Back Market', on which his tension building repeated phrases are matched by another expansive Rushen keyboard solo.
But what of Carlos you may ask? Well early on he delivers a few delicate tension breaking notes on latter part of 'Spiritual' and he leans into 'Shhh' with the help of his long time organ player Chester Thompson, but for the most part it's a case of 'after you' as the fusion pieces dominate.
Naturally Carlos seems happiest with the occasional sustained note, and strongly themed outings and to that end he closes with the timeless 'Europa'.
There's almost a feel of two parallel projects at play with both artists sticking to their respective styles and the end result is that neither Latino Rock fans or Post Bop Fusionists are going to be really happy with the compromised consensus.
File under musically excellent but frustratingly restrained rather than inspired.
***
Review by Pete Feenstra