CANDIE PAYNE I Wish I Could Have Loved You More Deltasonic (2007)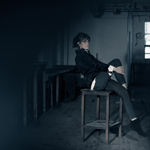 Candie Payne is the latest in a long list of talented scousers. And in Candie's case, a woman at the edge. The cutting edge, that is.
Compared in many circles to Dusty Springfield, the truth is Candie sounds nothing like Dusty , but she does have many sixties reference points and like Dusty she does have a wonderful 'feel' to her vocals.
The music, although sixties soul based in many instances does at the same time have a modern, 'alternative' vibe. Portishead is a name that has been referred to. I'll throw two more into the mix - The Art Of Noise and Phil Spector.
It's very definitely a marriage of new and old, neither dominating, but combining to deliver a contemporary and different sound that should be accessible across the generations.
The album ebbs and flows, Candie's vocals painting pictures like brushstrokes. There's uptempo numbers - like the set opener and title track I Wish I Could Have Loved You More and the big brash A Different You, Sixties soul All I Need To Hear, the Beatles-influenced By Tomorrow, the Spector-ish One More Chance, and the simply gorgeous Seasons Change.
Amy Winehouse seems to be the darling of the moment with her retro sound. Well Candie Payne may not be getting quite as much recognition but after a few listens I Wish I Could Have Loved You More can more than hold it's own.
***½
Review by Pete Whalley

---
| | |
| --- | --- |
| | Print this page in printer-friendly format |
| | Tell a friend about this page |