The Grandaddy of Grunge still packs a punch...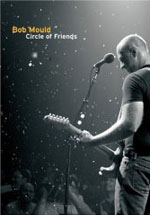 While it may sometimes be the case that a live retrospective DVD like this is often an excuse for the creative well running dry, you don't get that feeling with Bob Mould. On the evidence of both the pre gig interviews and two year old live footage, Mould appears to be a restless creative spirit who when not fronting a full-on grunge inspired outfit such as this, busies himself with the 'Blowoff' DJ and electronic project with keyboard player Richard Morel..
So what are we to make of one of alt. rock's prime movers as he enters his 40's? On the evidence of this DVD he retains the same power, passion, creativity and crashing chords that fired up Huskur Du in the 80's. The 90 minute 'Circles of Friends' finds Bob in the company of a stellar band, comprising the DVD producer and former Fugazi drummer Brendan Canty, the afore mentioned keyboard player Richard Morel, and fellow vocalist and bass player Jason Narducy, who bring a real muscular presence to Mould's post Spector wall of sound.
The punk infused, grungy wall of noise that permeates 'A Good Idea' is a Mould trademark that marks him out from many of his contemporaries. The aural onslaught frequently matches his lyrical and on stage intensity as he powers his way through 23 songs.
Opening with three Sugar numbers that set a high standard, Bob dips into his more recent 'Body of Song' album - recorded just before this October 2005 gig - with both the impressive 'Circles' and particularly 'I Am Vision I Am Sound', being slightly more refined but nonetheless powerful enough outings to drag his Punk inflected, post Jam feel into the main Grunge rock arena.
The pre gig interviews offer a key to both the man's persona and his working relationship with his new band mates. Mould is an almost shy and retiring figure off stage who becomes a different person once he has crossed the line. It's hard to believe the almost studious interviewee is the same guy who spits out the uncompromising 'Underneath Days'.
The impressive Richard Morel switches to heavy duty Hammond for the opening of the surprising melodic 'Hoover Dam'. This song is one of the set's highlights on which Mould revisits his Michael Stype style vocal phrasing, while Morel embellishes the melody line with some deft keyboard touches. Mould himself adds some shimmering, inspired guitar on a number that comes as close to a catchy chorus as you are every likely to hear from the man, albeit it is clothed in the usual wall of noise.
Not everything works as 'See A Little Light' flags a little after the straight to the vein intensity of what has gone before. The band actually bring things down on 'High Fidelity' and Husku Du's 'Hardly Getting Over It' on which Mould digs deep for a husky croak on some heartfelt lyrics. The Jam influence returns on the punky up tempo 1987 Huskur Du single, 'Could You Be The One' and there's a heavy grunge undercurrent on 'Crater Trips'.
Overall, 'Circle of Friends' is a welcome back to the alt. rock arena for the shaven headed one, and the generous 7 song encore provides us with more highlights, with 'Beating Heart The Prize' being a full on Grungy rocker of the highest order. Sadly the cameras manage to miss Bob's most significant solo of the night on an intense band performance that is simply magnificent and evidence if it was needed that this former pivotal alt. rocker has carried his inner rage with him.
****
Review by Jason Ritchie