ANN WILSON Hope & Glory (2007)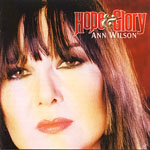 Ann Wilson - surely one of the best, if not THE best female rock vocalists in the business. As evidence, ladies and gentlemen of the jury, I lay before you Heart's 2002 Alive In Seattle DVD. A vocal performance to make the hairs on the back of your neck do somersaults.
But (why is there always a 'but'?) who can name a solo album by a lead vocalist that has stood up to close scrutiny? I struggle to think of one. And even more tricky, can anyone name a good solo album by a lead vocalist consisting of cover versions and duets that wasn't bargain bin fodder?
So to be honest, the odds were stacked against Hope & Glory before the needle hit the groove. And the fact that Heart's last offering - 2004's Jupiter's Darling - saw the band's creative juices running on empty was yet another ominous portent.
For her solo debut Ann's roped in producer Ben Mink (KD Lang) and a host of guest artists including Elton John, Gretchen Wilson, KD Lang, Alison Krauss, Wyonna, Shaun Colvin, Deana Carter and Rufus Wainwright. All were recorded in different studios, so you wonder how much was studio collaboration and how much was 'cut and paste'.
As you would expect from a vocalist of Ann's calibre, there are some great vocal performances, but it's a very risky business covering such well known tracks as We Gotta Get Out Of This Place (The Animals), Immigrant Song (Led Zeppelin), Bad Moon Rising (Creedence Clearwater Revival) and A Hard Rain's a-Gonna Fall (Dylan). The original are pretty engrained in the psyche, which makes valid interpretations a tricky business.
On first pass, my initial reaction was that Hope & Glory was a decent album - good, but not great. But a few listens in, and it begins to reveal some really good work. The standout being Where Now St. Peter with Elton John, revisiting a track lifted from his 1970 album Tumbleweed Connection. Elton may no longer be able to hit the high notes, but it's a heavyweight vocal performance by both artists and one of the best tracks you'll hear this year.
Elsewhere, there's an unusual interpretation of Floyd's Goodbye Blue Sky, there's country references here and there, but principally it's a rock album. We Gotta Get Out Of This Place with Wyonna has a great soulful feel, a touch of roots is added to Darkness Darkness, and Bad Moon Rising gets the c&w treatment. There's a great Bambi meets Godzilla duet between Ann and Alison Krauss on Neil Young's War Of Man, and even A Hard Rain works with it's laid back groove.
The album closes on a high with the self penned Little Problems, Little Lies - a Heart type ballad - and what could so easily been a runt of an album turns out to be triumph. Heart fans should purchase with confidence.
****
Review by Pete Whalley
---
| | |
| --- | --- |
| | Print this page in printer-friendly format |
| | Tell a friend about this page |