ALVIN LEE Saguitar Repertoire RAR1004 (2007)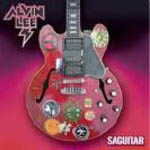 While 'Saguitar' frequently touches on Alvin Lee's description of his current music as 'raw boogie rock'- the title being a play on his Sagittarius star sign - he might have found room for 'rock & roll' as part of his musical description as a couple of the tracks sound like an outtakes from his recent Tennessee album recorded with Scotty Moore.
'Saguitar' grows on you with repeated listening with only the stark rock-blues and rock and roll divide stopping this from being one of Alvin's best efforts of late. The emphasis is squarely on having fun and laying down some hot licks, from the opening rock and roll work out of 'Anytime U Want Me' and the stripped down retro shuffle and clean picking of 'It's Time To Play', to the Elvis ode 'Midnite Train' on which former Quantum Jump/Peddlers drummer Trevor Morais explores a lovely train time shuffle.
But just when you think this album is going to be no more than a mix of retro rock & roll boogie with occasional guitar flurries, up steps Alvin with the almost mournful 'Motel Blues'. This deep blues is probably the most moving and possibly most honest song about life on the road that Alvin has ever written. It's so dark and emotionally wrought in places that the smouldering low down blues accompaniment is just about the perfect backing track to some disturbingly pessimistic lyrics. Thus he sings, 'I don't want to die in sole downtown motel' and concludes the first verse with 'Spend my life out on the road, must be near the end'. Alvin adds a beautifully measured, deep toned solo over Tim Hinckley's computerised Hammond on the album highlight.
The curious thing is that just like the smoking blues of 'Blues Has Got A Hold On Me' - all delicately teased notes and subtle backing - these two tracks stand in stark contrast to the rock & roll elements here, not to mention the almost hot club feel of 'Memphis'. And yet there is still plenty for Ten Years After fans to enjoy, particularly the fluid groove of 'It's All Good' on which Alvin constructs a short but memorable mid number solo.
There's also a partial return to TYA's 'Working in a Parking Lot' on the celebratory boogie 'Got A Lot of Living To Do'. Alvin evokes ZZ Top with the polished production feel of 'Education' on which he ultimately stretches out with some fluid playing that should generate some deserved radio play.
Overall, 'Saguitar' is an album recorded without record company or production pressures and touches on both Alvin's strengths, and his occasional foibles, as is the case on 'The Rapper'. This is a ground breaking outing for Alvin built on drum loops and is curious in as much as it sounds closer to Zappa than any brothers from the hood. But at least no one can complain about a lack of experimentation or innovation from a rocker in his fifth decade as a pro. Indeed there's even room for some humorous narrative on 'Rapper' when Alvin declares, 'you've got more baggage than Federal Express', which bring s a smile that just about holds sway over the brief bouts of introspection on a slow burning but ultimately cooking album well worth checking out.
****
Review by Pete Feenstra
---
| | |
| --- | --- |
| | Print this page in printer-friendly format |
| | Tell a friend about this page |