A movie about people who do stuff that is not normal ...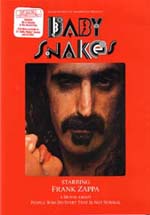 Anyone coming to the world of Frank Zappa afresh in 2004 may pick up some interesting hints from this DVD as to why he was one of rock's most influential artists and a real innovator. In fact he influenced everyone from Simpsons creator Matt Groening to the President of Czechoslovakia.
Both visually and audibly, in terms of the 5.1 sound, this is a digitally enhanced reissue of the film that first premiered in December 1979. Whilst it does contain unique footage of Zappa in concert, it's also a vehicle for clay animator Bruce Bickford. His work reminds me of those weird and wonderful videos that used to accompany album tracks on the Old Grey Whistle Test. In his own way, Bickford was the Nick Park of his generation but in truth Wallace & Grommit inhabit a much more rational world.
As far as the concert footage goes, we are not seeing prime-time Zappa. Indeed, that was nearly a decade earlier with the formative Mothers of Invention who combined wit, satire and general multimedia mayhem in their performances. In 1979, like many of his peers, Zappa was wrestling with the forces of punk. Perhaps more than anyone he could ride the storm, because in his own way he was one of the biggest punks of them all, at least in terms of anti-establishment and spontaneity, and the questioning of the status-quo.
Fortunately we do get some of the classic Zappa set-pieces, notably 'City of Tiny Lites' and 'Muffin Man'. On both, Zappa demonstrates why he influenced a generation of rock guitarists, with some superb heavy riffing and fluid, intelligent solos. He never wasted notes.
This is a thoughtful package with the addition of some facsimile documents wrapped up in a 'classified' document file and some 'non-D' glasses to play with. To Zappa fans, this will all be manna from heaven. It does put the genius in context and shows Zappa to be a thoughtful charismatic personality and raconteur. It could prove tough going for the novice, though, and - for straight ahead music - they may be better served by the other DVD 'Does Humor Exist In Music'.
***
Review by David Randall