Comic turn from Rick Wakeman clinches Yes set...

Here you get last year's number one bestselling DVD 'Yes Acoustic' plus 'Yesspeak' the live show broadcast to 35 US cinemas last year. You just can't fault the music on here from the epic strains of 'Heart of the Sunrise' through to 'Long Distance Runaround' that gets a new life in acoustic form.
With the line-up of Anderson/ Howe/ Squire/White/ Wakeman you have arguably the best Yes line-up. The photography is to be commended in this DVD as well - clear shots of the band and zoom-ins on band member's solo spots.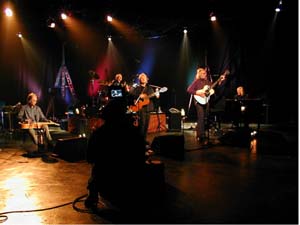 © Mike Tiano/Yesworld 2004

Bonus features include the trailers for the DVD from last year plus a backstage view of the rehearsals, narrated in style by Rick Wakeman. Wakeman's commentary had me laughing out loud in parts - if he never made it as a musician he would surely have made top draw comedian.

If you're a Yes fan go get this now!

*****

Review by Jason Ritchie

DVD review (Yesspeak)