Time to hang some Roger Dean posters...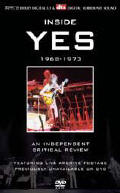 As regular surfers of this site may know, Iím not the biggest fan of this independent critical review series. But this is the best one Iíve seen to date and is a thoroughly enjoyable watch for any Yeshead.
And the difference is that itís put together so much better. Thereís loads of vintage footage and the visual presentation is just so much more, well professional.
Thereís tasty graphic effects which perfectly supplement the music, picture in picture is used well to prevent reviewers taking too much of the limelight, split screens are used to good effect and some really nice visual effects used to enhance contemporary still pictures.
For once the package doesnít feel like the main players are the critics and not the band. Here the music shines through and itís thoroughly enjoyable romp through the bandís first six albums.
And we get insights from past and present band member Steve Howe - which adds in spades to the credibility of the package.
It reminds you what an innovative and wonderful band Yes were - especially around The Yes Album and Fragile period. And it makes you want to dust down the vinyl and get some Roger Dean posters for the study walls. That canít be a bad thing.
My only complaint (yes, you knew there had to be one) is that most of the reviewers seem to take it all so damn seriously. But there are exceptions - yet again, Les Davidson makes it all look so easy on his acoustic and talks with a fluency and authority that demands you listen. And Jerry Ewing seems like a guy you could have a pint and a laugh with down the pub Ė his comment about why Tales Of The Topographic was so badly received Ďbecause itís a crap albumí is refreshingly direct (and honest). As for the rest, címon guys, lighten up - itís only rock Ďní roll.
***
Review by Pete Whalley