Acoustic magic from 35 years on prog rockers...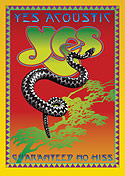 As Yes continue to promote their 35th anniversary, they followed the live transmission premier of the Yesspeak film with a live performance. That live set is what you get here, showing the full set, running at 65 minutes including part of the sound check.
Vocalist Jon Anderson takes up the acoustic guitar too, and there's some enjoyable banter between band and audience. Of course the main character is Rick Wakeman, whose smiles and piano are prominent throughout.
It's a full band set, so the acoustic drums and bass are well mixed in.
The band play in a smallish circle, surrounded by their monitors, and Steve Howe remains seated for the gig but the whole set is, for Yes fans and more, a pleasure.
Tracks like 'Long Distance Runaround' and 'Roundabout' all go down well. A good set.
Bonus material includes the in-the-studio rehearsals earlier that day, with Wakeman narration, making this a must.
*****
Review by Joe Geesin