WORLD PARTY Dumbing Up Seaview Records/Rhino (2006)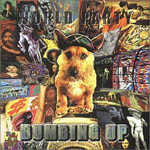 Four years ago things weren't going too well for Karl Wallinger, out of a record contract, his manager and mentor dead, and then suffering an aneurysm.
Thankfully he pulled through and 'Dumbing Up' is the new studio album which accompanys a busy period of back catalogue reissues.
Wallinger wears his influences on his sleeve, so the opening strains of 'Another 1000 Years' demonstrates his Lennon fixation, whilst Dylan is present on 'Who Are You', Crosby, Stills & Nash haunt 'What Does It Mean Now' and Prince inspires 'Here Comes The Future'.
And, in truth, this is the problem: the true voice of Wallinger is hidden by a pot pourri of pop styles and influences - dammit I can even hear Mungo Jerry in there! It's all well done, but hardly original, and rooted in the sixties.
If you are a fan, 'Dumbing Up' is a triumph in the face of adversity (and may even be Wallinger's strongest since 1990's 'Goodbye Jumbo'), but others may be happier to go back to the original inspiration.
***
Review by David Randall