WISHBONE ASH

'Backbones'(Talking Elephant TECD071) (2004)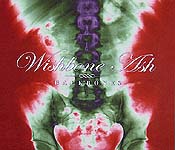 'Backbones' is an excellent trawl across several Talking Elephant releases, starting with 1996's 'Illuminations' and including 'Bare Bones' (1999) and 'Bonafide' (2002).
The recent live compilations 'Tracks' and 'Lost Pearls' are also represented, so listeners get a good smattering of fairly recent studio and live work.
The 'bonus' third disc brings the story further up-to-date with three live tracks from 2002 including the ubiquitous 'The King Will Come'.
An interview with Andy Powell recorded in September 2004 rounds things off nicely. Once again (as with the recent live compilations), the lack of detailed liner notes is a missed marketing opportunity.
Many punters believe 'Pilgrimage' and 'Argus' marked the band's zenith and that they have never really re-captured those dizzy heights. This handsome 3-CD set will go some way to restoring balance, showing that hard-working Ash in the nineties and beyond are still relevant and can still crank out a good tune.
****
Review by David Randall


Hard Times
© 2004 Talking Elephant. All rights reserved.
Related>>Album reviews