WINTERSTRAIN '3 track promo' MTM Music (2005)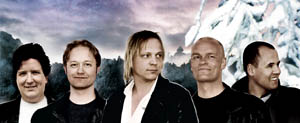 The gent that is Shy's Tony Mills passed this CD onto me, it being a three-track taster from the debut album by Norway's Winterstrain. Tony Mills adds his backing vocals to the album. The music mixes epic keyboard prog of say Enchant and Power quest in ballad mode with more melodic rock bands like Magnum.
The keyboards are a treat – high in the mix but not drowning out any other instrument. There is also a hint of Marillion at times, mainly in the keys again and the drums. The guitar solos are top draw with each song branching into prog but retaining a melody throughout i.e. no self-indulgance here.
I am keen to get hold of the debut CD I can tell you!
Review by Jason Ritchie