WINGER IV Frontiers (2005/6)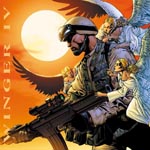 More than anyone else, Winger were casualties of the revolt against hair metal in the early 1990ís, Kip Wingerís pin-up status among the ladies (I seem to remember being virtually the only man at their Astoria show in 1991) proving a curse as well as a blessing, and never recovering from having the mickey taken out of them by Beavis and Butthead.
The irony was that they always wanted to be a serious band rather than contemporaries of the likes of Poison and Warrant, and their 3rd album Pull in 1993 was a commercial disaster but is now seen as a lost classic. That line-up, including guitarist Reb Beach, fresh from Whitesnake, drummer Rod Morgenstein and 2nd guitarist John Roth, plus keyboard player Cenk Eroglu, has returned with a brand new album ahead of a European tour including headlining this yearís Fire Fest.
This album has virtually nothing in common with their first two releases and stylistically is a cross between Pull and Kip Wingerís solo work, though more accessible than the latter. There is the odd nod to the past on songs like Your Great Escape and the straight ahead melodic rock of Four Leaf Clover, while the dreamy six minute ballad On a Day Like Today was the standout cut for me.
Elsewhere, the album has a progressive feel and takes in influences as diverse as Chris Cornell (opener Right Up Ahead) and John Payne-era Asia (the lush soundscapes and melodramatic vocals of songs like Blue Suede Shoes and Canít take it back). War, death and violence are recurring lyrical themes, and indeed on the cover artwork, while the likes of Liviní Just to Die and Short Flight to Mexico had a Thin Lizzy vibe but brought bang up to date. Throughout, the musicianship is excellent but, the odd moment apart, avoids swamping the songs.
Anyone nostalgic for the late 80ís would do well to give this album a wide berth, but if you persist with it and approach with an open mind, you will be rewarded with one of the more stimulating releases of the year.
****
Review by Andy Nathan