WILLIE NILE Streets of New York
(2006)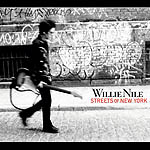 Singer/songwriter Willie Nile has been recording for many years and this is the first album I have heard by him. With compliments from amongst others Bono, Ina Hunter and Lou Reed it is surprising this man's obvious talent is not more widely recognized.
I read a recent review of this album in 'Word' magazine where the reviewer offered people money back if they didn't like this album and I have to agree that I doubt you would want your money back after hearing this wonderful album.
Musically with its use of mandolin and violin it is not a million miles away from the underrated band The Hooters. Or the song writing genius of Bob Dylan but with somebody who can actually sing!
The mix goes from the bouncy beat but serious lyric of 'Cell Phones Ringing (In The Pockets Of The Dead)' through to the joyous melody of 'The Day I Saw Bo Diddly In Washington Square'.
'Faded Flower Of Broadway' you could imagine being on a Glen Burtnik solo album whilst the title track closes the album in reflective mode and I can't recommend this album enough!
Why Willie Nile is not a household name is a mystery but hopefully this album can go some way to rectifying that.
*****
Review by Jason Ritchie
***** Out of this world | **** Pretty damn fine |
*** OK, approach with caution unless you are a fan |
** Instant bargain bin fodder | * Ugly. Just ugly