VARIOUS 'The Wildlife Album '
(Market Square MSMCD134) (2005)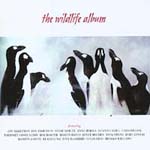 Good cause albums can be a bit predictable. Whilst the underlying principles are usually admirable, the content is usually second-hand and often second-rate with tracks either too familiar or too awful.
'The Wildlife Album' is however a refreshing departure from stereotype. Carefully and lovingly compiled by muso/writer Colin Harper, it brings together a range of folk-to-rock artists with whom Harper has had some passing acquaintance. And, moreover, the tracks are either unique to this album or never before released.
It is true that there are only a certain number of core must-have tracks (from artists such as Cara Dillon, Ian Anderson, Bert Jansch, Martyn Joseph, and Jan Akkerman) the rest of the album is filled up with contributions from Harper himself either as writer, performer or producer. However these are all of a high quality and feature new and established, and predominately Irish based performers.
Harper also gets to play with some of his heroes including Dutch guitarist Jan Akkerman. Back in 1997 Colin came over from Ireland for Akkerman's return to these shores. I will always remember the genial Irishman picking over my guitar with note-perfect Akkerman flourishes as we prepared for that gig.
There are a couple of ways you can save wildlife. Throw a party or, preferably, buy this album.
****
Review by David Randall

The Other Side
© 2004 Cara Dillon/Market Square Records. All rights reserved.