WILD TURKEY You And Me In The Jungle
WTM 150011 2 (2006)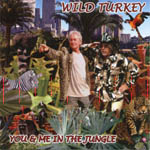 Back in the early 70's Wild Turkey were born when former Jethro Tull bass player Glen Cornick sought a different outlet for his own material. Turkey turned out to be a great live band that frequently packed out the Marquee Club and did steady business on the college and club circuit, but were always a few great songs short of making a major impact.
Three decades on they have reformed, a little older wiser and doubtlessly a little wiser and with the addition of original Tull drummer Clive Bunker. Vocalist Gary Pickford Hopkins, guitarist Mick Dyche and keyboard player Steve Gurl still remain from the old days, and the band have added former Man drummer John 'Pugwash' on percussion.
So musical credentials out the way, what are we to make of Wild Turkey 2006? Basically the same strengths and weakness remain as before, as some sizzling playing is offset by some variable material. Glen Cornick tries to make a good fist of the song writing duties, with lyrics dealing with a mix of humanitarian politics and personal relationships, and while Bunker clatters away enthusiastically and Mick Dyche adds some wonderful guitar runs, vocalist Gary Pickford Hopkins gamely battles on with the with a vocal performance that like the band is good in parts.
While there are a handful of good rockers such as 'Propaganda' and the Bonnie and Clyde style lyrics of the Cornick/Hopkins co-write 'Split Down the Middle' and the obvious 'Play Another Fast Song', there is simply too much inoffensive middle of the road fare.
Guitarist Mick Dyche adds some beautiful slide lines on the title track which he later reprises on 'Soldier Boy', but a cluttered mid-number percussive section 'Jungle Dreams' featuring Bunker and Weathers and Dyche on guitar doesn't sit easily with the rest of the song. And that is a shame as it's one of the few moments when the band tries to be adventurous on a pleasant but ultimately undemanding album.
***
Review by Pete Feenstra
---
| | |
| --- | --- |
| | Print this page in printer-friendly format |
| | Tell a friend about this page |