WIDESPREAD PANIC 'Live At Myrtle Beach'
Sanctuary (2005)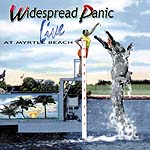 Widespread Panic are a massive live draw in their native US and part of the very popular 'jam' band scene in the US that includes other bands like Blues Traveller and Phish. Here in the UK and Europe they would be lucky to fill a medium sized venue as for some reason we just don't take to this type of music and/or it does not get much exposure.
As you'd expect the tracks take on new life and form in the live environment with more soloing (check out the 23 minutes plus of 'Papa's Home'). Vocalist John Bell has a drawling vocal style (sometimes he reminds me of BOC's Eric Bloom in his quieter moments) that suits the music well and if you like guitar/piano jams underpinned by intricate percussion then give 'Ain't Life Grand' and 'Chilly Water' a listen. There is a good, clear live sound throughout the two-disc set.
If you have not heard any Widespread Panic then I would recommend starting with 'Don't Tell The Band' (for me the band's finest hour studio album wise) and then trying a live album like this. Sometimes you can tire of the extended solos, whereas listening to the studio based tracks first will give you a better start to the band's music.
***½
Review by Jason Ritchie

Ain't Life Grand
© 2005 Sanctuary Records Group. All rights reserved.
***** Out of this world | **** Pretty damn fine |
*** OK, approach with caution unless you are a fan |
** Instant bargain bin fodder | * Ugly. Just ugly