WIDESPREAD PANIC with THE DIRTY DOZEN BRASS BAND 'Night Of Joy'
(Sanctuary )(2004)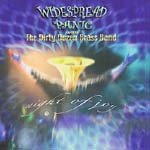 Now this band may mean very little to UK and European rock fans but in their homeland in the US they are massive and rightly so. It's in the live arena that the band is most famous for as they go into jam sessions each night. The usual band are backed-up by a seven piece band going under the name of the Dirty Dozen Brass Band and together they make one big sound live! Only downside is the set kicks of with 'Thought Sausage' one of my personal least favoruite Widespread Panic tunes. But from then on it gets much better with some great guitars on 'Use Me' and 'Arleen' - the latter clocks-in at over ten minutes. The live sound is high quality and the two sets of musician blend in seamlessly.
A must for the converted fans but if you're new to the band try 'Don't Tell The Band' instead, one of their best studio albums to date.
Label website
***
Review by Jason Ritchie


£13.99
Use Me
© 2004 Sanctuary Records. All rights reserved.
***** Out of this world | **** Pretty damn fine |
*** OK, approach with caution unless you are a fan |
** Instant bargain bin fodder | * Ugly. Just ugly